Farage-Linked Brexit Pollster Faces Scrutiny Over Operations
(Bloomberg) -- A polling firm linked to Brexit champion Nigel Farage faces scrutiny over a short-lived company that its owner used to do political work for Farage's party and the 12 million-pound ($15.5 million) campaign he fronted to leave the European Union, according to records and interviews.
As part of a broader probe, investigators for the U.K. Information Commissioner's Office are seeking details behind more than 186,000 pounds ($241,000) in payments made by Farage's U.K. Independence Party (UKIP) to an entity established by the head of the polling firm Survation. UKIP leaders have been fighting the demand for that information, and other details related to political operations, for almost a year, including in court. The fact that the inquiry is looking at what role Survation may have played hasn't been previously reported.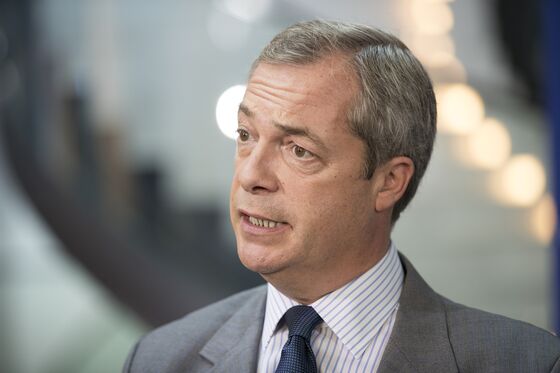 The polling firm also has surfaced in two other investigations related to UKIP and the campaign to leave the EU, according to records and interviews. The revelations place the pollster squarely into the controversy surrounding Farage, the former UKIP leader, and Arron Banks, a businessman who financed Farage's Brexit campaign, which was called Leave.EU. Survation's founder, Damian Lyons Lowe, worked as Farage's pollster and served as a key adviser.
U.K. pollsters have faced calls for inquiries and regulation since Bloomberg reported in June that many had privately worked for hedge funds betting millions on the outcome of the 2016 EU referendum. Survation conducted an exit poll for hedge funds that successfully called the vote--and Farage told Bloomberg earlier this year that Lyons Lowe shared its results with him after the polls closed, but long before official tallies came in. During that time, Farage shocked the world by conceding defeat, and the pound's value spiked in currency markets before dropping precipitously as the Leave victory became clear.
Now, interviews with several people familiar with Survation's operations show that in addition to measuring public opinion, the firm's executives also helped shape it--for the Brexit campaign, UKIP and Farage through the related company under scrutiny.
Survation, acting through an entity called "Constituency Polling Ltd.," embedded and managed political operatives, primarily on behalf of Leave.EU, in a call center run out of the Bristol offices of Banks's company, Eldon Insurance, according to people involved, including Banks. The businessman poured at least 12 million pounds into the pro-Brexit campaign and also supported UKIP.
Despite the inclusion of the word "polling" in its name, people involved in Constituency Polling's call centers described its operations as voter targeting and political marketing. Workers were paid to ask a series of questions from a script in order to gather data identifying sympathetic voters who later could be targeted for get-out-the-vote campaigns or other political operations, according to those involved.
It also embedded call-center staff, doing similar work, inside UKIP's former London offices, according to those involved, who also said Survation executives directed and oversaw Constituency Polling work for both UKIP and Leave.EU.
Lyons Lowe denied that Survation executives ever sought to help Constituency Polling's clients shape opinion.
Constituency Polling began operations in late 2014 and filed paperwork to dissolve just 18 days after the June 23, 2016 referendum. Several people involved in the firm's operations described it as a shell company created to insulate Lyons Lowe and Survation's brand from potential scrutiny.
Lyons Lowe said in an e-mailed statement that Constituency Polling was not a shell company and had registered with regulators, including by filing tax and spending returns. "Constituency Polling Ltd. was a separate company from Survation Ltd," he said. "It was formed, as many companies are formed, for a purpose and when that purpose ended, it was dissolved."
The Information Commissioner is conducting a far-reaching investigation into the use of data analytics in U.K. political campaigns, especially the EU referendum, to determine if crimes were committed or regulations were broken related to data protection, privacy, or perverting the course of justice, which is akin to obstruction in the U.S.
Lyons Lowe said the Information Commissioner's Office informed Survation in 2017 that it was not the subject of the probe but that it might hold relevant information for the investigation. Neither Survation nor Constituency Polling was identified as an "Organization of Interest" in an interim report issued by the Information Commissioner in July. Full details of the inquiry haven't been made public; nor is it clear that it will result in any new allegations of wrongdoing.
The agency's purview is narrow: enforcing data-protection and privacy laws. But its probe has become a dominant vehicle in the U.K. for investigating the growing public controversy around the conduct of the Brexit campaign, thanks in part to its 500,000-pound fine, the statutory maximum, against Facebook in July. The sanction is for data leaks to Cambridge Analytica, which obtained the profiles of up to 87 million Facebook users for "psychographic targeting" in political campaigns. Cambridge Analytica worked with the pro-Brexit side, though the extent of its operations remains under investigation.
As part of its continuing probe, the agency has ordered UKIP to explain what, exactly, it got in exchange for 186,613.13 pounds it reported paying to Constituency Polling in 2015 election-spending reports. The notice also seeks details on all research, data analytic, or micro-targeting services provided to UKIP by any third parties.
Lawyers representing UKIP tried to quash the demand, which also included records related to other political activities, but it lost a court appeal on the issue, according to a judgment published in July.
Steve Doohan, a spokesman for the agency, said UKIP still has not complied and has informed the agency, in writing, that it is seeking another appeal. The agency's demand notice, originally issued almost a year ago, is similar to a subpoena in the U.S.
In the interim report on the probe, issued when Facebook was sanctioned, the agency named UKIP, Leave.EU, and Banks's companies as being among a handful of entities that had failed "to provide comprehensive answers to our questions, attempted to undermine the investigation, or refused to cooperate altogether." All three have denied wrongdoing.
The agency has not said, specifically, what it is investigating regarding Constituency Polling's work for UKIP, and declined to comment further for this article. It's unclear whether investigators know Constituency Polling was run by Survation's Lyons Lowe, or that it operated out of Eldon Insurance. The agency did say in its interim report that the probe includes "whether Eldon Insurance call-center staff used customer databases to make calls on behalf of Leave.EU" and in violation of the nation's privacy and communications laws.
In an email to Bloomberg, Banks confirmed the Constituency Polling operation in Eldon's offices and said its primary purpose was to benefit Leave.EU, but he denied "using insurance data in any polling exercise." Despite the agency's contention to the contrary, Banks said he has fully cooperated with the probe, adding: "The interest in this matter is part of the ongoing smear campaign against the Brexit campaign and the allegations we have heard a million times before!"
The probe also includes allegations Cambridge Analytica was "paid for work on UKIP data in 2015" and that Leave.EU was involved in covering the costs, the agency said. Lyons Lowe's operations were major sources of data for UKIP that year, according to people involved. The agency hasn't revealed specifically which UKIP data it's focused on.
Gawain Towler, a spokesman for UKIP, said, "I'm sure UKIP behaved within the rules at all times." He declined further comment. Farage, on a speaking tour of Australia and New Zealand, did not reply to detailed emails or text messages seeking comment.
The Constituency Polling name first surfaced inside Survation's office in 2014 when Lyons Lowe directed staff to create a basic website in that name through a free web-design platform, according to people familiar with the effort. On Sept. 11, 2014, the company was registered in the U.K. with just one director and shareholder -- Robert Mark Telford, who was Lyons Lowe's accountant, according to people involved and corporate records. Lyons Lowe's then-father-in-law, Canice V. Kelly, soon replaced Telford as the firm's sole director for almost a year.
"My daughter was still married to Damian Lyons Lowe when I agreed to become a director of that company," Kelly said in an email to Bloomberg News. "My only knowledge of its activities is what is implied by the company name. I received no payments or inducements of any kind for agreeing to become a director. Not even lunch, dinner, or a drink." He also said he had no idea of Banks's involvement. "I do not know Arron Banks, I have never met Arron Banks and I do not share his political views."
Telford, the accountant, returned to replace Kelly as the company's sole director the day before Constituency Polling filed its mandatory annual financial statement. It showed just 73 pounds in assets. Despite the campaign cash that flowed into the company, it never reported share capital exceeding 1 pound during its 22-month life. Telford did not respond to emails and phone calls requesting comment.
Survation started running a call center under the name Constituency Polling inside Banks's Eldon office by at least November 2014. Banks's own employees also participated, and the insurance company hired temporary workers to staff phones in multiple shifts, personnel said. Temps had no idea Eldon had brought them in for political work, according to an email one worker sent to his recruiting agency. "I was being told that I would be ringing insurance clients to check their details only to be told [upon arrival] I would be polling using suggestive questioning for UKIP," the temp said, according to the email exchange, which was shared with Bloomberg.
Inside a glass-partitioned room at UKIP's own, unmarked offices in London's Mayfair neighborhood, Constituency Polling ran similar call centers in late 2014 and into 2015, according to several people involved. One worker said a Constituency Polling bank account deposited his earnings -- about 14 pounds per hour -- without any deductions, including for taxes. Despite his suspicions, this operator said no one initially told him he was being paid to make calls on behalf of UKIP. He only realized who the client was when Farage walked in one morning and greeted the staff.
Operators directed suspicious voters to verify the company's bona fides by checking out the Constituency Polling website that Lyons Lowe had directed Survation staff to create, according to personnel involved.
Farage's own failed bid to win a seat in Parliament in the 2015 general election became an important focus of Constituency Polling's operations, said several people involved, who agreed to speak only on the condition they not be named. It's unclear whether Constituency Polling carried out similar operations for anyone else.
During Constituency Polling's brief life, Survation, under its own name, also conducted polling for the Leave.EU campaign financed by Banks, records show. Those polls came from 2015 through at least February 2016. Survation also was UKIP's pollster of choice.
Banks's business and political interests united again in late 2015 during his interactions with another company: Cambridge Analytica and its parent, the SCL Group. Cambridge Analytica proposed an integrated project for Leave.EU, UKIP and Eldon Insurance that included "psychographic micro-targeting," according to a document published by the U.K. Parliament. While both sides say the relationship never advanced, the Information Commissioner probe remains active.
In early 2016 Lyons Lowe hired a young data scientist named Marius Mosoreanu, who was publicly identified as deputy research director for SCL Group, to take over data operations for Survation. Former colleagues from both SCL and Survation confirmed that Mosoreanu had worked for SCL. Mosoreanu, however, said in an email to Bloomberg that he was never "employed" by SCL or Cambridge Analytica, and that his expertise was in research and data analysis, not electoral behavior. He declined to comment further.
The Information Commissioner has targeted the Leave.EU campaign for an operation involving Survation at least once before, according to records and interviews.
In May 2016 the agency fined Leave.EU's parent company, called "Better for the Country Ltd.," 50,000 pounds for sending more than 500,000 spam text messages as a way to generate data on potential Brexit supporters. Although Survation has never been named in relation to the text campaign, people involved said it carried out the operation for Leave.EU. They also said the fine was a source of friction between Banks and Lyons Lowe, helping to prompt a falling out.
In his response to questions for this article, Lyons Lowe said that, at the time, the agency investigated Constituency Polling and Survation in relation to Better for the Country Ltd., but fined only the Leave.EU parent.
Survation's work in 2015 benefiting UKIP and Leave.EU also is part of a pair of related, pending investigations in London and Brussels, according to EU records and people familiar with the probes.
A European political party controlled by UKIP, called the ADDE, improperly spent roughly 450,000 euros in European taxpayer funds on polls aimed at benefiting UKIP in domestic British elections, and on measuring support for the Leave campaign, according to the EU Parliament Bureau and court records. The investigation was made public in late 2016 following an audit. Officials familiar with the details have now told Bloomberg that misspent funds were directed to Survation for the polls in question.
The European Anti-Fraud Office in Brussels, known by the acronym OLAF, is investigating the spending, and the case also was referred to the U.K. Electoral Commission for a separate probe, according to court records and sources familiar with the investigation. The Electoral Commission declined to comment. UKIP has denied any wrongdoing.
The newly revealed financial and political ties connecting Lyons Lowe and Farage's political projects are in contrast to statements by the men downplaying their relationship following Bloomberg's investigation of secret polls sold to hedge funds seeking to profit off the Brexit vote.
Farage, who changed his story several times about what he knew and who told him, said after the article was published that he had received contradictory information from a variety of sources. He denied having any involvement in currency trading. Lyons Lowe didn't respond to Bloomberg's questions before the June article, but later told the Financial Times that he had simply told Farage the vote was too close to call, and denied leaking data.