Brazil Far-Right Candidate Leads, Set to Struggle in Run-off
(Bloomberg) -- Far-right former paratrooper Jair Bolsonaro consolidated his position at the head of the race for Brazil's presidency when Luiz Inacio Lula da Silva's candidacy is excluded, but he would still struggle in a second round, a survey by polling firm Ibope showed.
The far-right candidate has 22 percent of vote intentions, up two percentage points since the last Ibope poll on Aug. 20. Former Environment Minister Marina Silva came in second with 12 percent, the same as August, while left-wing candidate Ciro Gomes rose from 9 percent to 12 percent. The former governor of Sao Paulo, Geraldo Alckmin, also saw his numbers improve slightly from 7 percent to 9 percent. Fernando Haddad, Lula's likely substitute, moved from 4 percent to 6 percent.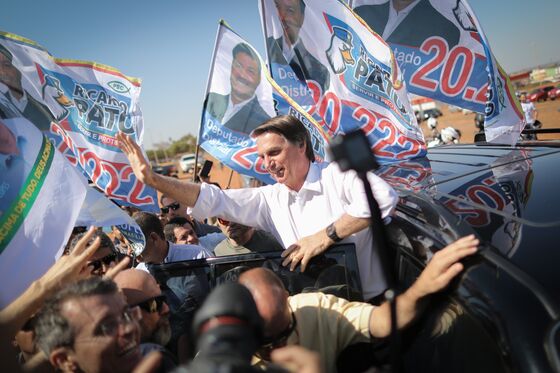 If no candidate wins over 50 percent of the vote on Oct. 7 there will be a second-round run-off on Oct 28. In all scenarios tested by Ibope, Bolsonaro loses to his potential second-round opponents, with the exception of Haddad, with whom he is technically tied. The poll was commissioned by the TV network Rede Globo and the O Estado de S. Paulo newspaper, based on interviews with 2,002 Brazilians between Sept 1. and Sept. 3. It has a margin of error of plus or minus 2 percentage points.
The poll showed that with just under a month to go, voters are starting to make up their minds. There was a significant decline in the number of those planning to annul their vote or leave it blank, down from 29 percent to 21 percent. Undecideds also fell from 9 percent to 7 percent.
The poll was scheduled to be released Tuesday, but Ibope postponed the release due to concern that excluding Lula from the survey would not be allowed by the electoral court. The Ibope survey is the first to be released following the decision by Brazil's top electoral court to bar Lula's candidacy, due to his conviction for corruption.
It's also the first since the start of political advertising on TV and radio, traditionally considered an important element of Brazilian elections. Alckmin has by far the largest share of broadcast advertising.