Tony Blair Says More Labour Lawmakers Could Resign Over Party's Future
(Bloomberg) -- Alongside Brexit, the future of the U.K. Labour Party and whether moderate lawmakers choose to resign is the "big political question" over the next year, former Prime Minister Tony Blair said.
"There is a genuine anxiety in a large part of the Labour Party today that it's been taken over by people who are not from the normal traditions of the Labour Party," Blair said on Bloomberg TV. "There will be some people who want to stay and fight," he said, while others will quit if they see no prospect of the party returning "to what I would call a sensible Labour position."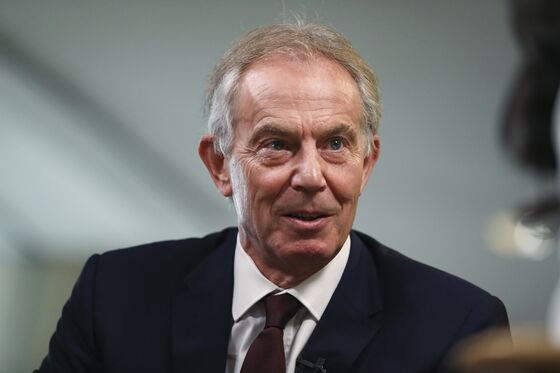 Labour has looked vulnerable to a split ever since Jeremy Corbyn became leader in 2015, dragging party policy to the left on a range of economic and social issues. In recent months, pressure has intensified over Britain's decision to leave the European Union as well as accusations of antisemitism in the party. When long-standing lawmaker Frank Field resigned the whip last week, speculation was rife more would follow.
There are also persistent rumors pro-EU lawmakers from the major parties are planning to break off to form a new political group to challenge Brexit.
Blair said Thursday the most likely outcome in the Brexit process is "gridlock" in Parliament, with Prime Minister Theresa May unable to secure a majority for her plan to retain relatively close ties to the EU. Blair said the "political flaw" in May's approach was that her Brexit proposal won't appeal to either Remainers or Leavers in the Brexit debate.
"The Labour Party, in my view, will vote against any proposition the government puts forward," Blair said, adding that a second referendum is the obvious course to break the deadlock.
"Even though people at the moment are saying, 'no, no we're not going to have another vote,' if you do end up with that paralysis the logical way out is to go back to the people," he said. "It's actually the rational thing to do because we've had over two years of negotiation and we now have a much enlarged view of what this all means."