Merkel Ally Seeks Top EU Job to Counter Populist Challenge
(Bloomberg) -- An ally of German Chancellor Angela Merkel will run for the leadership of the European Commission as the continent's biggest party seeks to counter a populist revolt.
Manfred Weber, German head of the Christian Democrats in the European Parliament, said on Wednesday he would seek to succeed Luxembourg's Jean-Claude Juncker as president of the Brussels-based commission. Juncker's term atop the European Union's executive arm ends in October 2019.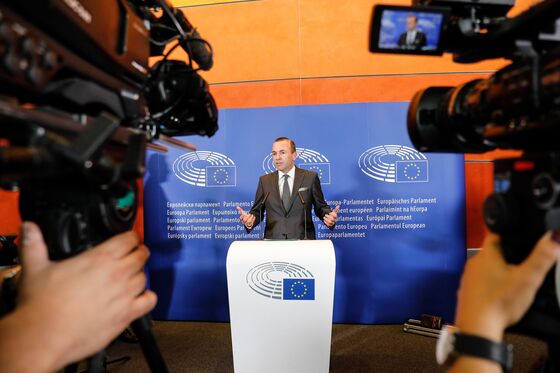 Weber, a pro-EU politician from the southern German state of Bavaria, must still win the backing of Europe's Christian Democratic party to become its nominee for commission chief. After that, his chances would depend on how well the Christian Democrats -- also known as the European People's Party -- do in May 2019 elections to the European Parliament, which approves the commission president.
"Europe needs a new beginning and more democracy," Weber, 46, said in a Twitter post after announcing his bid.
The upcoming EU Parliament elections and choice of commission president will be a barometer of the anti-establishment forces at play in the developed world. Those forces brought about two watershed events in 2016, when Britons voted to leave the EU after four decades of membership and Americans sent Donald Trump to the White House with an "America First" agenda that challenges an even longer history of U.S. international engagement.
Last year's election of French President Emmanuel Macron and fourth-term victory of Merkel put a brake on an anti-EU trend exemplified by Brexit. But just as the EU ship was steadying itself, Italy acted as a buffet by producing a populist government composed of parties far from the European mainstream.
Beyond the political theater, the struggle between EU supporters and opponents has implications for how the bloc is governed. The commission proposes EU legislation on everything from auto-pollution limits to mobile-roaming fees, acts as the bloc's antitrust authority, administers its 140 billion-euro ($162 billion) annual budget, negotiates trade accords and runs a foreign service.
"I support the candidacy of Manfred Weber," Merkel told reporters in Berlin on Wednesday. "Now it's time to wait a time to see whether further EPP candidates come forward."