U.S. Actions May Push Tariffs Back to Post-WWII Levels, UBS Says
(Bloomberg) -- You haven't seen anything of the trade wars yet.
UBS analysts estimate that if President Donald Trump follows through with additional duties on $200 billion of Chinese goods, the weighted average tariff in the U.S could increase by 442 basis points, a level last seen in 1971. Only 18 percent of that increase has already happened, the analysts led by Arend Kapteyn wrote in a note to clients on Wednesday.
A further escalation of the spat to cover $450 billion of Sino-American trade would bring tariffs back to a level last seen in the 1940s, according to the report. "Viewed in a historical context, this is a very high stakes game of poker."
Trump has upended global commerce with a salvo of protectionist measures targeting allies and foes alike, as the reduction of the U.S trade deficit has been catapulted to the top of his administration's agenda. The levies have provoked retaliation from the world's biggest economies, including China and the European Union, casting doubt over the future of the global trade order.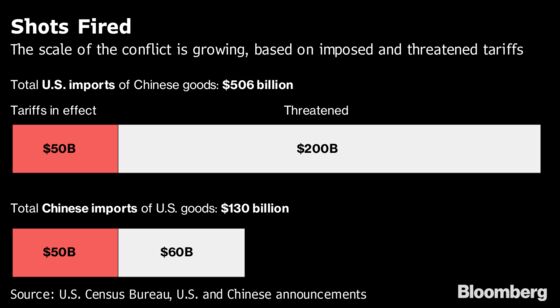 The global average import tariff is now poised to increase by 93 basis points to 4.06 percent, the highest level since 2001, according to UBS estimates. U.S. actions account for most of the increase.
The protectionist retrenchment may be further exacerbated next year if the EU and the U.K. fail to strike an agreement for an orderly Brexit, the UBS analysts say. "The average tariff on all U.K. goods would increase by 230bp," while the EU and the U.K. would together "push the global weighted average tariff up by an additional 48bp in 2019 or 2020."