Republicans Press Twitter's Jack Dorsey Over 'Shadow-Banning'
(Bloomberg) -- Republicans pressed Twitter Inc.' s Jack Dorsey for what they said may be the "shadow-banning" of conservatives, as the social network's chief executive officer testified at the House Energy and Commerce Committee.
"We and the American people want to be reassured" about Twitter's polices and "better understand how Twitter decides when to suspend a user or ban them" and how the company does it "without undue bias," Republican Representative Greg Walden, the committee's chairman, said in opening the hearing Wednesday.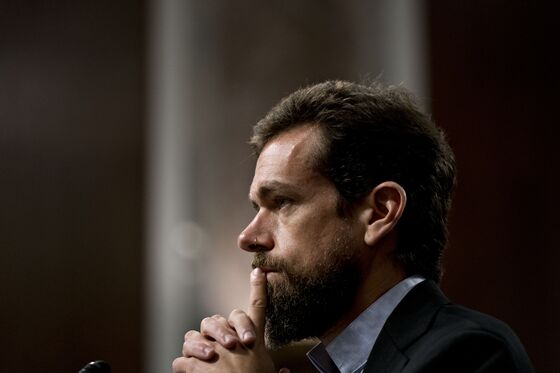 It was Dorsey's second appearance of the day on Capitol Hill, and Twitter fell 6.1 percent, the most since July 30, to $32.73 at the close in New York. Investors may have been rattled by his candid and unpolished comments, including that "massive shifts" will be required in the way social networks operate.
While the morning session before the Senate Intelligence Committee was devoted mostly to concern about meddling by Russia and others countries that lawmakers have called "bad actors," the House panel focused more on complaints by President Donald Trump and some conservative Republicans that Twitter and other social media companies suppress or reduce the visibility of their opinions while favoring liberals and Democrats.
'Impartiality of Outcomes'
"We believe it's dangerous to ask Twitter to regulate opinions or be the arbiter of truth," Dorsey, who spent the full day testifying, said. "We'd rather be judged by the impartiality of outcomes and criticized when we fail this principle."
Representative Frank Pallone, the committee's top Democrat, said that "over the past few weeks, President Trump and many Republicans have peddled conspiracy theories about Twitter and other social media platforms to whip up their base and fund-raise." He said Trump uses Twitter to "belittle" people and spread false statements that "coarsen the public debate."
The Republican concerns were echoed Wednesday by the Justice Department, where spokesman Devin O'Malley issued a statement saying that Attorney General Jeff Sessions "has convened a meeting with a number of state attorneys general this month to discuss a growing concern that these companies may be hurting competition and intentionally stifling the free exchange of ideas on their platforms."
Many questions at the House hearing turned on how well -- and quickly -- Twitter acts to police violent or fraudulent postings.
Asked about a tweet that depicted a gun aimed at Meghan McCain, who implicitly criticized Trump at memorial services for her late father, Senator John McCain, Dorsey acknowledged it took too long -- five hours -- for Twitter to remove the offensive post.
"In the short-term we need to do a better job at prioritizing," Dorsey said. "And in the longer-term we need to take the burden away from the victim from having to report in the first place."
Representative David McKinley embarrassed Dorsey by showing him an ad for cocaine on Twitter that he said was still online at the time.
"I would be ashamed if I were you," the West Virginia Republican said, as he displayed multiple ads offering drugs that the company's algorithms hadn't caught.
"This is unacceptable, and we will act," Dorsey said. Walden, the committee chairman, announced as the hearing ended late in the day that Twitter had taken down the cocaine ad.
In prepared testimony for the committee, Dorsey defended the San Francisco-based company's objectivity. In advance of the hearing, he said, Twitter studied tweets by senators and representatives and didn't find bias.
For more on Twitter, check out the Decrypted podcast:
"We observed that there is no statistically significant difference between the number of times a tweet by a Democrat is viewed versus a tweet by a Republican," he said. The measurement controlled for factors including the number of tweets and followers.
Vijaya Gadde, Twitter's head of legal, policy, and trust and safety, told Bloomberg News in an interview last month that Twitter uses software to help identify potentially violating content, though human reviewers ultimately determine whether the content has violated its policy and what enforcement action should be taken.
"The goal is for our policies to be clearly understandable and have steps to enforce them objectively," Gadde said. "Where that doesn't happen is where we need to simplify or modify our policies in some way."
She added that Twitter usually draws on the expertise of a group outside advocates and researchers ahead of making any adjustments to its policies.