Nationalist Lead in YouGov Poll Has Sweden on Edge Ahead of Vote
(Bloomberg) -- The anti-immigration Sweden Democrats remained the largest party in a final poll by YouGov ahead of Sweden's election on Sunday, marking a stark contrast to results in other surveys and ratcheting up uncertainty ahead of the vote.
Seeking to upend the Swedish establishment and push for an exit from the European Union, the party's backing rose to 24.8 percent in a YouGov poll published on Wednesday. That would make it bigger than both the ruling Social Democrats and the largest opposition party, the conservative Moderates.
Voters flocked to the Sweden Democrats after the Nordic nation of 10 million people became a haven for refugees, accepting a record 600,000 immigrants over the past five years. The party's popularity is driving a wedge between the two-bloc political establishment, which has so far refused to engage with the Sweden Democrats because of their neo-Nazi roots.
The party's growing clout as a power broker is also unnerving investors who are still struggling to come to terms with the fallout from elections in Italy, the U.K Brexit vote and the election of Donald Trump in the U.S. Sweden's krona last week sank to its lowest level since the 2008 global financial crisis.
The currency traded about 0.2 percent weaker at 10.54 per euro as of 2:30 p.m. local time, snapping four days of gains.
But questions have been raised about the reliability of YouGov's polling, which is based on a self-recruited web panel. A polls by Demoskop released by newspaper Expressen on Wednesday showed backing for the Sweden Democrats at 18.2 percent, while in s poll of polls by Swedish Radio its backing stood at 19 percent.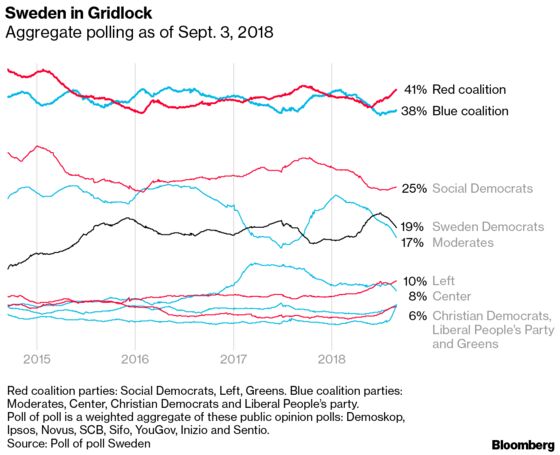 Backed by only 3.6 percent voters, the YouGov poll also shows that the Green Party won't reach the 4 percent threshold for getting seats in parliament. The red-green bloc of Social Democrats, Greens and the Left Party remains the largest at 36.8 percent compared with just 33 percent for the four-party opposition Alliance coalition.
Here are the results of the YouGov poll of 1,511 interviews on Aug. 30-Sept. 1:
Sweden Democrats 24.8% vs 24.2%
Social Democrats 23.8% vs 21.9%
Moderate Party 16.5% vs 15.8%
Left Party 9.4% vs 9.2%
Center Party 6.0% vs 7.9%
Liberals supported 5.7% vs 5.3%
Christian Democrats 4.8% vs 3.8%
Green Party 3.6% vs 5.1%