Merkel Endorses Euro Clearing Move to Frankfurt. Sort of.
(Bloomberg) -- German Chancellor Angela Merkel added some of her political weight behind a move of euro clearing to Frankfurt, though she fell short of a full-throated endorsement.
"I have heard the words about euro clearing," Merkel said at a banking conference in Frankfurt, speaking after Volker Bouffier, the premier of the surrounding state of Hesse, and the chief executive officer of Deutsche Boerse AG, Theodor Weimer. Both argued more forcefully for moving euro clearing to Germany's financial capital.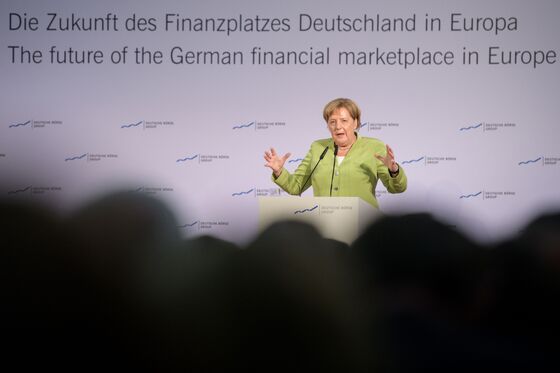 "All in all the statement makes sense," Merkel said late Tuesday. "So one would say logic doesn't stand against it."
The enigmatic assist comes after months of lobbying from Weimer, who's been on a tour to convince politicians in Berlin that the clearing of financial derivatives denominated in euros -- chiefly the interest rate swaps market -- should be moved to the euro area when the U.K. leaves the European Union.
Deutsche Boerse stands to gain considerable business from any such move. The CEO hopes to grab a 25 percent share of the multi-trillion euro clearing market next year, boosting the company's annual revenue by 50 to 70 million euros ($58 to $81 million), Weimer told Bloomberg Television in February.
The chancellor's remarks come days after Finance Minister Olaf Scholz suggested at a conference last week that Frankfurt should play an active role in any potential reshaping of the European banking industry.
Merkel also referenced the issue, addressing the need for "multinational" banks as well as regional institutions.
"That's why Frankfurt is of such big relevance," Merkel said. "Our ability for financial services in a comprehensive sense can certainly grow."