Men More Likely to Get Into Japan Medical Schools, Ministry Says
(Bloomberg) -- After a sexism scandal at a Japanese medical university rocked the nation, a government survey found that female students were less likely to be accepted at most of the country's medical schools.
A survey of entrance tests at Japan's 81 medical schools over the past six years found that men were consistently more likely to get into 60 percent to 70 percent of the schools, the Education Ministry said in a press release. One reason given by the colleges was that women found the math and physics questions on the entrance tests difficult, the Nikkei newspaper reported.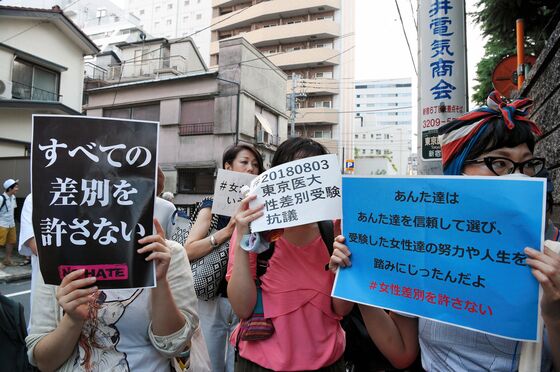 The scandal has cast a shadow over Prime Minister Shinzo Abe's bid to draw more women into management positions in all fields, as the country struggles with a shrinking and rapidly aging labor force. While women's workforce participation has increased in Japan, few are rising in the ranks to supervisory positions, including in Abe's cabinet.
The ministry will seek further information from the medical universities before releasing a full report, according to the press release.
Data show women are slightly more likely than men to be accepted at universities in general. None of the colleges said they added points to particular candidates' scores, the ministry said.
Last month Tokyo Medical University apologized for having systematically bumped up men's test results to ensure women stayed in the minority.