Kavanaugh Ducks Questions on Trump, Roe in Marathon Senate Day
(Bloomberg) -- Supreme Court nominee Brett Kavanaugh steered clear of trouble in a marathon day before a Senate panel, refusing to say whether he would overturn the constitutional right to abortion or disqualify himself from any case directly involving President Donald Trump.
Over 12-plus hours, Kavanaugh fielded friendly questions from Republican senators and parried confrontational ones from Democrats. He left the latter group dissatisfied but also avoided any major slip-ups that could endanger his confirmation prospects in the Republican-controlled Senate. He will answer more questions Thursday.
Confirmation of Kavanaugh, Trump's choice to succeed the now-retired Justice Anthony Kennedy, could create the most conservative Supreme Court in generations. The court could shift to the right on gay rights, affirmative action, federal regulatory power and gun restrictions, as well as abortion.
Kavanaugh also could cast a pivotal vote if the court were to take up a case involving investigations of Trump by special counsel Robert Mueller and federal prosecutors in New York. Under questioning from Connecticut Democrat Richard Blumenthal on Wednesday, Kavanaugh refused to promise he wouldn't take part in such a case.
"To be consistent with the principle of independence of the judiciary, I should not and may not make a commitment about how I would handle a particular case, and the decision to participate in a case is itself a decision in a particular case," said Kavanaugh, who is now a federal appeals court judge.
Blumenthal said he was "troubled and disturbed" by that answer. He said Trump has been implicated in wrongdoing that "involves the legitimacy" of his presidency.
Earlier, Kavanaugh deflected a question about his decades-old comment that the Supreme Court's 1974 Nixon tapes ruling might have been "wrongly decided." He said Wednesday that quote was "out of context" but didn't explain further.
He said the ruling, which required President Richard Nixon to turn over secret White House recordings, was one of the court's best moments.
"It was one of the greatest moments because of the political pressures of the time," Kavanaugh said. "The court stood up for judicial independence in a moment of national crisis."
Although Kavanaugh once called on Congress to pass a law shielding the president from civil and criminal investigations, he said Wednesday that those represented only "ideas for Congress to consider" and that he had "never taken a position on the Constitution on that question."
The judge wouldn't say whether he thought a sitting president should have to respond to a subpoena or could pardon himself.
Kavanaugh's performance drew plaudits from Trump. Speaking in the Oval Office, he called Kavanaugh an "outstanding intellect" who was "born for the job" of Supreme Court justice. Senate Republican leader Mitch McConnell of Kentucky said Kavanaugh had put in a "virtuoso" performance.
Kavanaugh also got a warm reception from Republican members of the committee. Senator Chuck Grassley of Iowa, the panel's chairman, praised the nominee for his opening statement the previous day.
"He made a powerful, compelling and convincing statement demonstrating his exceptional background and qualifications to serve our nation's highest court," Grassley said.
On abortion, Kavanaugh tracked the approach of previous Republican Supreme Court nominees. He said the landmark 1973 Roe v. Wade abortion-rights ruling was "settled as a precedent of the Supreme Court, entitled to respect under principles of stare decisis," referring to the legal doctrine that says the court generally won't reverse its past rulings.
Kavanaugh pointed to the 1992 Supreme Court ruling that reaffirmed Roe, calling the latter decision "a precedent on precedents." He also said he understood the real-world consequences of that line of decisions.
"I don't live in a bubble," he told Democratic Senator Dianne Feinstein of California. "I live in the real world. I understand the importance of the issue."
But Kavanaugh also defended an opinion in which he sided with the Trump administration in a fight with an undocumented immigrant teenager seeking to end her pregnancy while in federal custody.
In his dissenting opinion, Kavanaugh said he would have blocked the girl, who was 15 weeks pregnant, from having an abortion for at least another week. The government said it was trying to find a sponsor for the girl so that officials wouldn't have to "facilitate" her trip to an abortion clinic. The girl later had the procedure.
"I specifically said the government cannot use this as a ruse to prevent abortion," he said Wednesday.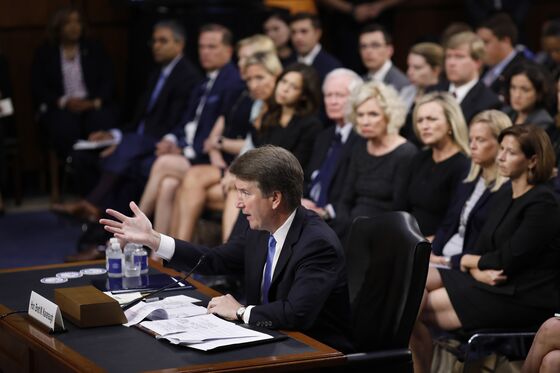 Blumenthal pointed to other parts of that opinion, including the use of the phrase "abortion on demand," which the senator called "a code word in the anti-choice community."
Blumenthal said Kavanaugh was "sending a signal" to Trump and the conservative Federalist Society, which helped the president put together a list of prospective Supreme Court nominees, that he was willing to vote to overturn Roe.
"I think that you needed to send a message to the Trump administration that you needed to be on that list," Blumenthal said.
Kavanaugh tried to tread carefully when Democratic Senator Kamala Harris of California asked him whether he agreed with Supreme Court decisions in 1965 and 1972 that guarantee the right to use contraceptives. Eventually he said, indirectly, that he did, first calling a concurring opinion in the 1972 case "persuasive" and then saying he agreed with two previous nominees who had explicitly backed the rulings.
He sidestepped a volley of questions from Democrat Cory Booker of New Jersey on race and the government's proper role in remedying inequality.
"Do you believe having a diverse student body is a compelling governmental interest?" asked Booker, who like Harris is a possible 2020 Democratic presidential candidate. "Do you believe that? It's not a complicated question."
"The Supreme Court has said so," Kavanaugh said, without giving his own views.
Kavanaugh was more direct on the subject of government regulation, rejecting suggestions that he is categorically hostile. As a federal appeals court judge, Kavanaugh has voted to strike down environmental and net-neutrality regulations and said the Consumer Financial Protection Bureau was set up in an unconstitutional manner because its director couldn't be fired by the president without cause.
"I am not a skeptic of regulation at all," he said Wednesday. "I am a skeptic of unauthorized regulation, of illegal regulation, of regulation that's outside the bounds of what the laws passed by Congress have said."
But Kavanaugh wouldn't defend a White House statement that said he "has led the effort to rein in unaccountable independent agencies." Democratic Senator Amy Klobuchar of Minnesota asked Kavanaugh to explain the meaning of the fact sheet, issued when he was nominated.
"I don't know," Kavanaugh responded. "I don't know what that's referring to. I know my record. I'm sure I've upheld agency decisions dozens and dozens and dozens of times."
Democrats reiterated frustration with not having access to hundreds of thousands of pages of documents from Kavanaugh's work in Republican President George W. Bush's White House. Democrat Dick Durbin of Illinois said Kavanaugh should call for release of that material.
"Judge Kavanaugh, that reflects on your reputation and your credibility," Durbin said.
Throughout the day and evening, Kavanaugh was interrupted by small groups of shouting protesters. The Capitol Police said they removed removed 73 people from the hearing room or other areas of Senate office buildings,.
"Stop Kavanaugh!" one woman shouted. "Our bodies, our choice!"
The nominee said early on that he wasn't going to discuss how he might rule in future cases or what he thought about most past Supreme Court rulings. He pointed to similar refusals by past nominees, including Democratic appointees Ruth Bader Ginsburg and Elena Kagan.
"I'm going to have to adhere to the lines drawn by those prior nominees," Kavanaugh said.