It's Not Just Italy: These Are Europe's Other (Smaller) Budget Headaches
(Bloomberg) -- Europe's budget season is kicking off, and while Italy is attracting the limelight, other countries are having to navigate their own issues and work out their fiscal plans for the coming year.
All governments have until Oct. 15 to submit their programs and targets to the European Commission, which must issue its opinion on whether they are compliant with the bloc's fiscal rules by the end of November. Italy's populist coalition has been the center of attention all summer, with spending and tax promises that have left investors on edge. Concern about the country's enormous debt load has manifested itself in a bond selloff, pushing yields to levels last seen during the euro-area debt crisis.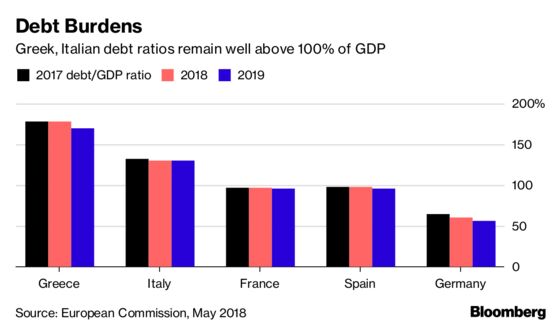 Elsewhere, France's Emmanuel Macron has already had to tweak his plans because of slower economic growth, delaying a business-friendly tax cut, while Spain's Socialist government has a minority in parliament, meaning its dream budget will be subject to plenty of compromise. Here's a roundup of some of the main issues and the names to watch.
10-year yield now: 3%
10-year yield a year ago: 1.9%
End 2017 debt ratio: 131.8% 
Budget Promises: The coalition, formed in May after a deadlocked elections two months earlier, has thrown out a range of voter-friendly offerings. These include a basic income for the poor, tax cuts for companies and individuals, and a lower retirement age.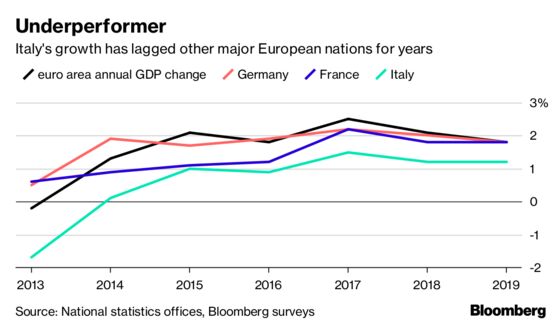 Major Challenges: All that costs money, and the euro area's slowest growing economy already has a debt-to-GDP ratio of more than 130 percent, second only to Greece. Failure to rein that in means nervous investors and rising borrowing costs. The summer has been dominated by concerns over the country's budget, with sovereign yields fluctuating on everything from government comments on the deficit to speculative reports on Donald Trump agreeing to buy Italian debt.

Key Players: Giovanni Tria may be finance minister, but it's the coalition leaders who are the ones to watch as they try to implement their populist agenda. Luigi Di Maio, head of the Five Star Movement, and Matteo Salvini, leader of the anti-immigrant League, have repeatedly indicated their priority is Italians' well being even at the expense of a spat with the EU over fiscal discipline, and possibly a spike in yields.
10-year yield now: 1.5%
10-year yield a year ago: 1.5%
End 2017 debt ratio: 98.3%
Budget Promises: After ousting Mariano Rajoy in a shock no-confidence vote in May, Prime Minister Pedro Sanchez has vowed to undo years of austerity. His Socialist government has already notified Brussels it will miss the 2.2 percent deficit target set by the previous government and is aiming for 2.7 percent.
Major Challenges: Even if Sanchez has wiggle room to undo some crisis cuts, getting the bill approved by parliament will prove tough. He's already struggling to find cross-party support to prop up his minority administration and, to appease anti-austerity group Podemos, his government says it's open to tax hikes on large companies and a levy on banks.

Key Players: Sanchez has work ahead to make deals with Podemos leader Pablo Iglesias, who has spooked markets in the past with an anti-austerity agenda, as well as Catalan and Basque nationalists. Less than a year after the crisis in Catalonia, handing out concessions there in exchange for support could be seen as a sign of weakness. Economy Minister Nadia Calvino, who has kept a very low profile since arriving in office, will have to convince her former colleagues in Brussels that Spain can keep reducing its deficit amid all the domestic political maneuvering.
10-year yield now: 0.72%
10-year yield a year ago: 0.61%
End 2017 debt ratio: 97%
Budget Promises: Get the French back to work with tax cuts for business and workers, but caps on pensions and some benefits to limit the deficit.
Major Challenges: With Macron's shine fading fast, it will be tough to convince the French to slim down cherished family and housing benefits. He's plunged in polls since his election in 2017 and the summer brought no reprieve with the shock resignation of his most popular minister and a scandal involving a bodyguard. Companies, which once held up Macron as their champion, are also beginning to doubt him after his government delayed a tax cut. Following strikes this year, the stage is set for a bigger showdown with unions in 2019 over plans for a complete rethink of pensions and unemployment insurance.

Key Players: Macron himself, but his popularity is at just 33 percent, according to an average of polls. Finance and economy minister Bruno Le Maire will be on the front lines of selling the Macron mantra: work should pay, not welfare.
10-year yield now: 0.39%
10-year yield a year ago: 0.31%
End 2017 debt ratio: 64.1%
Budget Promises: Germany is in a different position to many other euro nations, running a surplus five years in a row. In the first half of this year, it posted a record surplus of 48.1 billion euros ($56 billion). In a pushback against populism, Finance Minister Olaf Scholz wants to guarantee pensions until 2040 to keep hold of voters who feel they're losing out.
Major Challenges: Money helps, but as Scholz's predecessor, Wolfgang Schaeuble, used to say, it creates its own problems as the wish-list for spending becomes longer every year. There's even demands from abroad, with Donald Trump pushing Germany to meet the agreed Nato target of 2 percent of GDP on defense spending. Implementing any of these costly defense or social plans is likely to risk Germany's goal of a balanced budget.

Key Players: Chancellor Angela Merkel is Europe's longest serving leader, though she struggled this year before renewing a three-party coalition led by her Christian Democrats. Scholz wants to lead the Social Democrats in the next election, where he might end up challenging Merkel for the chancellorship of Europe's largest economy.
10-year yield now: 4.3%
10-year yield a year ago: 5.5%
End 2017 debt ratio: 178.6%
Budget Promises: Just weeks after Greece exited its third bailout since 2010, Prime Minister Alexis Tsipras is about to unveil his economic program ahead of an election that's less than a year away. In the past, whenever he's had some fiscal leeway, he's focused on one-off giveaways to poor pensioners and unemployed, or VAT exemptions on islanders that have borne the brunt of a refugee influx.
Major Challenges: Out of the bailout, but not out of trouble, Greece is still lumbered with a 20 percent unemployment rate, weakened banks and a public debt ratio of close to 180 percent. For two years the government has run small budget surpluses, which become big ones when debt service costs are taken out of the equation. The fiscal stance is already eye-wateringly tight, but the country still has pension cuts and tax increases ahead, which look unavoidable as bailout creditors view them as necessary "structural reforms." Greece has committed to running a 3.5 percent primary budget surplus until 2022, dropping to 2.2 percent until 2060.

Key Players: As he heads into an election year, Tsipras's fiscal room is limited, and opposition leader Kyriakos Mitsotakis, leading in polls, is waiting to take advantage. He's vowed to cut taxes to help growth, but faces the same fiscal constraints, making it unclear how he would finance them.