A Heap of Economic Pitfalls Awaits Next Swedish Government
(Bloomberg) -- The next Swedish government, whatever it may be, won't be wanting for economic hurdles.
And with the rise the nationalist Sweden Democrats, the country is poised to emerge from Sunday's election in one of the most difficult parliamentary situations in the history of its democracy. The deadlock that could follow has investors, executives and economists worried that key tests won't be met.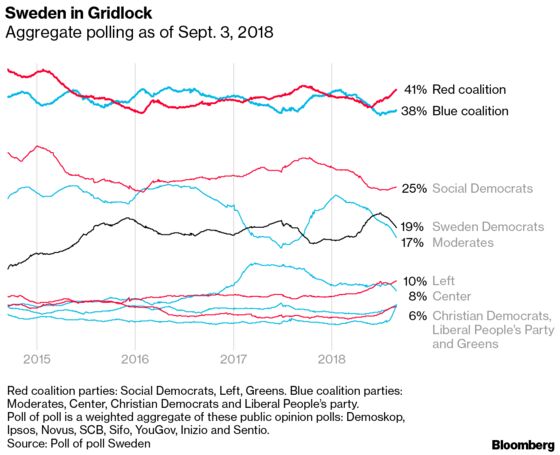 The first hurdle to clear could be a recession. Sweden's economic expansion has now reached 20 consecutive quarters and is showing signs of cooling as production bumps up against capacity.
The next government should expect little help from the central bank in fighting off a downturn. Monetary policy makers are just now preparing to raise interest rates from a record low of minus 0.5 percent. Their balance sheet is stuffed after they snapped up almost half of the Swedish government bond market over past few years to drive down longer rates.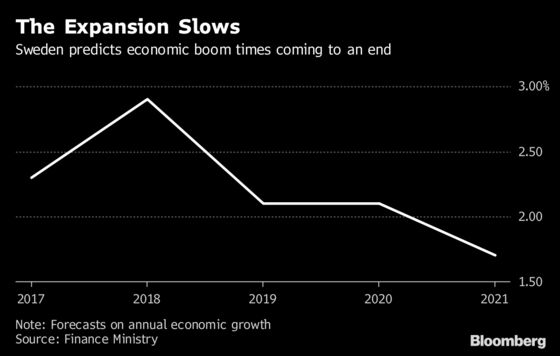 Rising rates in themselves also present a challenge for the next government, whether Prime Minister Stefan Lofven gets renewed confidence or his main challenger, Moderate Party leader Ulf Kristersson, wins. Households have loaded up on debt amid years of record low borrowing costs and are vulnerable. Higher rates could also reignite declines in the housing market.
Bettina Kashefi, chief economist at Sweden's Confederation of Enterprise, the main business group, said the country needs broader thinking on how to secure competitiveness and ensure that companies find skilled workers. Sweden is falling behind other developed countries if you look at gross domestic product per capita, she said.
"We're at the peak of an economic upturn, and we have an extremely weak krona, which means businesses are doing quite well as Swedish products then become cheap," she said. "But what happens when the economy weakens?"
That sentiment is also echoed by the opposition, which wants to cut taxes and warns the government has wasted the economic boom. Sweden has some of the highest marginal tax rates in the world after the current government raised them to pay for increased welfare services and integration of immigrants.
Talks on a broader tax reform, including on housing-related taxes, have gone nowhere over the past four years, though the government did lower corporate tax rates. Elisabeth Svantesson, the economic spokeswoman for the opposition Moderates, said Sweden needs a productivity commission.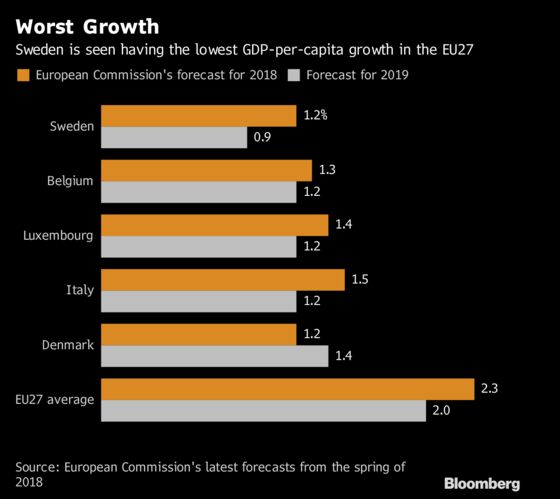 "We need to figure out the causes of this decline, otherwise we'll have problems securing our welfare going forward," Svantesson said.
Housing also poses a key structural challenge. After decades of low construction rates, Sweden faces a housing shortage. That's particularly problematic in the capital, Stockholm, where many big companies rely on recruiting workers from abroad.
"When we bring someone from our global organization to work in Sweden it's not easy to rent somewhere in the city," said Borje Ekholm, the chief executive officer of Ericsson AB, in an interview last month. "So we would need to see a well-functioning housing market."
Rents are tightly regulated across Sweden, something no politician has so far been willing to touch. While low rates over the past few years has pushed the pace of construction to the highest since the 1990s, it hasn't been enough to meet demand after the country accepted 600,000 immigrants over five years.
Finance Minister Magdalena Andersson, who has likened Sweden's economy to a Tesla with growth exceeding 3 percent over recent years, said the country is well prepared to cope with the next crisis. Successive surpluses have cut public debt levels to the lowest since the late 1970s and employment levels are the highest in the EU.
Johan Javeus, the chief strategist at Stockholm bank SEB AB, agrees that Sweden is well-equipped to handle political instability. But says that something that might change that picture is if the country is confronted by a trade war or a housing crash.
The currency has plunged ahead of the election. Traders are spooked by the rise of the Sweden Democrats, which has called for a referendum on leaving the European Union. While that seems unlikely to happen, the party's growing clout will strengthen its ability to set the debate over the coming years amid increased gridlock.
Some choose to look on bright side. Kristoffer Melinder, managing partner at private equity firm Nordic Capital, said gridlock could be a blessing.
"Sweden has a very business-friendly climate and weak governments will not do radical things," he said. "There are many other things in society and certainly Sweden that probably need to be addressed, but from a business-climate point of view, basically the setting is quite good."
But if the stakes were higher? "The bigger risk is if you had a more severe recession," he said. "That's probably where you'd have a need for a stronger government in Sweden."