Democrats Poised to Grill Kavanaugh at Supreme Court Hearing
(Bloomberg) -- Democrats spent the first day of Brett Kavanaugh's U.S. Supreme Court confirmation hearings criticizing Republicans. Now they will turn to the nominee himself.
Kavanaugh closed out a day of rancor among senators Tuesday by promising in his opening remarks to be a "neutral and impartial arbiter who favors no litigant or policy." He said the court "must never be viewed as a partisan institution."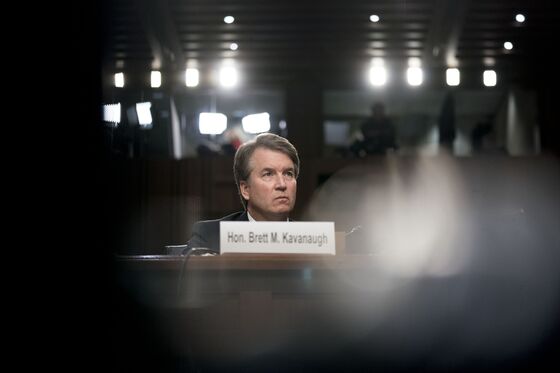 Those comments stood in contrast to a day that otherwise underscored just how intensely partisan the confirmation process has become. Democrats spent much of the first hour interrupting the committee's Republican chairman, demanding a delay and access to more documents from Kavanaugh's time in a Republican White House. Kavanaugh is President Donald Trump's pick to succeed the now-retired Justice Anthony Kennedy.
Wednesday's session will give Democrats their first chance to publicly question Kavanaugh, a federal appeals court judge likely to shift the court to the right, perhaps dramatically so. His confirmation could make the court more skeptical of federal regulations, gun restrictions and affirmative action. The court could consider overturning the 1973 Roe v. Wade abortion-rights ruling.
"President Trump promised he would only nominate judges to the Supreme Court who would overturn Roe v. Wade, judges who would dismantle the Affordable Care Act, judges who would reshape our judiciary," Senator Patrick Leahy of Vermont said Tuesday. "Now, if that's not judicial activism, I don't know what is."
Kavanaugh told the committee Tuesday that judges "must be independent, not swayed by public pressure."
"Over the past 12 years, I have ruled sometimes for the prosecution and sometimes for criminal defendants, sometimes for workers and sometimes for businesses, sometimes for environmentalists and sometimes for coal miners," Kavanaugh said. "In each case, I have followed the law."
Trump, who chose Kavanaugh as his second high court nominee, said on Twitter that the hearings "are truly a display of how mean, angry, and despicable the other side is. They will say anything."
Democrats haven't been able to undercut Kavanaugh's status as a heavy favorite to win confirmation. Senate Republicans can confirm him without any Democratic votes and are aiming to do so before the court opens its term on Oct. 1.
The Wednesday session, the first of two scheduled days of questioning for Kavanaugh, is expected to last into the evening hours.
During senators' opening statements Tuesday, Republicans were repeatedly interrupted by audience protesters, including one woman who called the hearing "a travesty of justice" and another who shouted that she had to leave Missouri to get an abortion.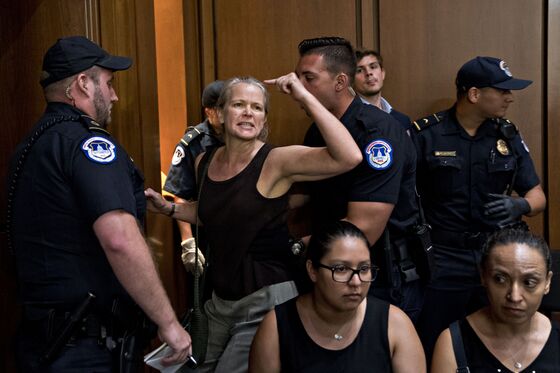 The United States Capitol Police said that 70 people had been arrested during the hearing; 61 were removed from the hearing room itself, and another nine nearby in the corridors of a Senate office building. The charges included disorderly conduct, crowding and obstructing, the police said.
All Republicans on the committee are publicly backing Kavanaugh or leaning that way. Panel Chairman Chuck Grassley, a Republican from Iowa, said Kavanaugh is "one of the most qualified nominees, if not the most qualified nominee, I have seen."
Grassley said he expects the committee to vote on confirmation on Sept. 20. The chairman told reporters after the hearing that the confirmation is in good shape, as evidenced by the fact that many of Democrats' complaints were focused on process.
"I think it's pretty clear that nobody has found any qualification problem with this nominee. It's all been on process," Grassley said. "I expect that he will be on the court."
Grassley said during the hearing that senators shouldn't expect Kavanaugh to discuss how he'll rule on future cases, including efforts to undercut Roe. He added that previous high court nominees, including Ruth Bader Ginsburg and Elena Kagan, declined to get into specifics at their confirmation hearings.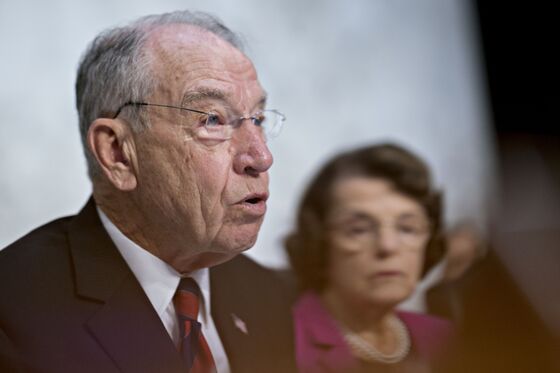 "Senators were satisfied with these answers on precedent," Grassley said. "They should be satisfied if Judge Kavanaugh answers similarly."
Kavanaugh could give the court a fifth vote to overturn, or at least trim back, the constitutional right to abortion access.
"The impact of overturning Roe is much broader than a woman's right to choose," Senator Dianne Feinstein of California said Tuesday. "It's about protecting the most personal decisions we all make from government intrusion."
Leahy said Trump may have chosen Kavanaugh because of the judge's "expansive view of executive power" and his call for Congress to shield the president from criminal and civil investigations while in office.
"I find it difficult to imagine that your views on this subject escaped the attention of President Trump, who seems increasingly fixated on his own ballooning legal jeopardy," Leahy said.
Blumenthal said Kavanaugh is likely to cast the pivotal vote on issues tied to Trump's possible criminal culpability, including whether the president must obey a subpoena or testify before a grand jury.
"There is a basic principle of our Constitution and it was articulated by our founders: No one can select a judge in his own case," Blumenthal said. "That's what the president is potentially doing here: selecting a justice on the Supreme Court who potentially will cast the decisive vote in his own favor."
He added that, if Kavanaugh is confirmed, "there will always be a taint, there will always be an asterisk after your name."
Republicans defended Kavanaugh, as well as Trump's right to select him.
"You can't lose the election and pick judges," Senator Lindsey Graham of South Carolina said. "You want to pick judges, you'd better win."
Republican Senator Orrin Hatch of Utah said the Supreme Court had adopted Kavanaugh's view of the law 13 times.
"Judge Kavanaugh is no ideologue," Hatch said. "He is no extremist. He is a highly respected, thoughtful, fair-minded judge who is well within the judicial mainstream."
Democratic Senator Sheldon Whitehouse of Rhode Island said Kavanaugh would reinforce the Supreme Court's conservative tilt on business and politically charged cases. He said the court under Chief Justice John Roberts had sided with "big Republican interests" in 73 cases without any support from Democratic-appointed justices.
"In 73 partisan decisions where there's a big Republican interest at stake, the big Republican interest wins," Whitehouse said. "Every damned time."
In the sparring over records from President George W. Bush's White House, Democrats said they haven't seen any documents from Kavanaugh's three-year tenure as Bush's staff secretary and received more than 40,000 pages of other White House records only the night before the hearing began.
A lawyer representing Bush's library withheld 100,000 other pages as privileged at the request of the Trump administration.
Republicans are poised to reclaim their 51-49 Senate majority now that Arizona Governor Doug Ducey has selected former Senator Jon Kyl to replace the deceased Senator John McCain.
Two female senators who support abortion rights -- Susan Collins of Maine and Lisa Murkowski of Alaska -- are the only two Republicans seen as potential "no" votes on the confirmation, and neither has been critical of Kavanaugh at any time since Trump first selected him.
Four Senate Democrats are top targets of groups that support Kavanaugh. They are: Heidi Heitkamp of North Dakota, Joe Donnelly of Indiana, Joe Manchin of West Virginia and Doug Jones of Alabama.