Default Fears Mount for 'BATS' as Emerging-Market Pain Deepens
(Bloomberg) -- Investor anxiety about a missed debt payment by one of the world's largest developing nations is jacking up the cost of credit-default swaps from the "BATS" -- Brazil, Argentina, Turkey and South Africa -- to multi-year highs.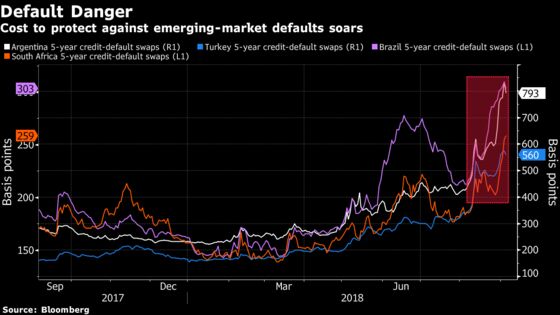 Argentina's implied default probability over the next five years climbed this month to 41 percent, the highest since Mauricio Macri's government ended the nation's decade-long legal battle with most holdout creditors.
Turkey's implied default odds during that span rose to 31 percent, the highest since the 2008 global financial crisis.
Brazil's implied default odds increased to 18 percent, the highest since the country's worst-ever recession deepened in late 2016.
South Africa's implied default odds soared to 15 percent, the highest since Donald Trump's election in November 2016.
Analysts are taking note. Turkey and Argentina have "substantial" medium-term default risks as they'll probably face recessions and rising political risks ahead of key votes, Kasper Bartholdy, a strategist at Credit Suisse in London, wrote in a note today.
Still, the nations have a long way to go before they're put in the same category as Venezuela, which has racked up more than $6 billion in missed bond payments in the past year alone amid a worsening financial and humanitarian crisis.