Austria Says EU Financial Transaction Tax Is on Wrong Track
(Bloomberg) -- Talks on introducing a European financial transaction tax are headed in the wrong direction and need to change course or be scrapped, said Austrian Finance Minister Hartwig Loeger, who's in charge of the project.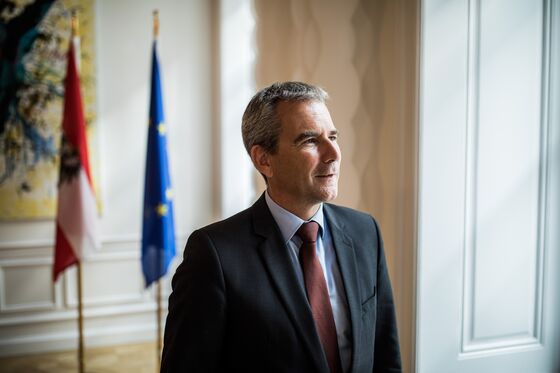 During years of debate, the scope of the proposed levy has been scaled back so much that it isn't worth the effort anymore, Loeger said. "The broad tax base we had initially was repeatedly reduced in the course of the debate," he said in an interview in Vienna on Tuesday. "There's precious little meat left for a financial transaction tax that makes sense."
If the 10 euro-area countries still pursuing the tax don't come up with ways to boost potential revenue, they may need to abandon the current plan in favor of a simplified alternative proposed by Germany and France. "If we don't get something substantial among the 10, this alternative approach could be justified," Loeger said.
The European Commission, the EU's executive arm, proposed the tax in 2011 to make sure the industry made a "fair contribution" after taxpayers bore the costs of the financial crisis. When some member states opposed imposing an EU-wide levy, a smaller group sought a compromise under "enhanced cooperation" rules. Austria, Belgium, France, Germany, Greece, Italy, Portugal, Slovakia, Slovenia and Spain are still at the table.
Earlier this year, the group estimated that the proposed tax could generate about 19.6 billion euros ($22.7 billion) of annual revenue, with derivatives accounting for more than half of the total. The projection assumed that the tax could be collected abroad, including in the U.K. after Brexit, on transactions involving a counterparty from one of the participating countries.
In June, the 10-nation group decided to look at the Franco-German proposal for a tax modeled on an existing French levy "whose primary focus is taxing transactions of domestically issued shares." In their road map for strengthening the euro area, the two countries said they aim to conclude negotiations swiftly on the levy at EU level.