The Last Thing Krona Needs Is an Ascent of Sweden's Nationalists
(Bloomberg) -- Sweden's elections this weekend could spell more pain for an already floundering krona.
A significant increase in support for the Sweden Democrats, whose anti-European Union rhetoric echoes similar populist movements across the continent, would be the worst election outcome for the krona, according to a Bloomberg survey of 10 strategists. The most pessimistic outlook is for the krona to stumble to 10.85 to the euro if the nationalists manage to become the largest party. That would be the weakest level since July 2009.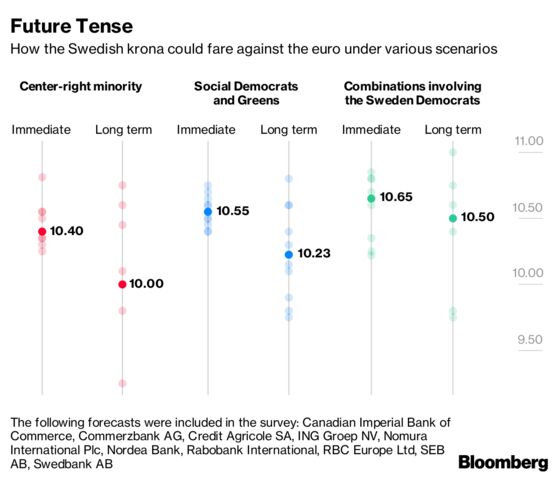 "There seems to be risk of some political turmoil as, according to polls, we will have no clear government alternative after the election," said Karl Steiner, chief quantitative currency strategist at SEB AB in Stockholm. "We do not expect political events to have a large impact on financial markets but with the increased international media attention and steady weakening of the krona lately we believe there could be a larger reaction than usual."
The krona has wrong-footed traders this year. It's the worst-performing Group-of-10 currency, having weakened more than 7 percent against the euro. Some strategists have recently warned that krona negativity is overdone and overstretched positioning could result in a rebound, though any delay in the central bank's path toward starting monetary tightening could scupper that.
A win for the center-right Moderates-led block in the Sept. 9 vote would give the krona more tailwind than victory for the current Social Democrats-led government, the poll showed. But with none of the traditional blocks having shown willingness to cooperate with the Sweden Democrats, the stage has been set for a more drawn-out and complicated formation of a government.
Significant gains would cement the Sweden Democrats as king makers, making it very complicated to form a functioning minority government since they could block budgets and reforms. That would mirror events seen in Italy, where a coalition that only formed in May after March elections has rattled investor sentiment.
A final poll by YouGov on Wednesday showed that the Sweden Democrats remained the largest party in marking a stark contrast to results in other surveys and ratcheting up uncertainty ahead of the vote. Backing for the anti-immigration party rose to 24.8 percent, published in the Metro newspaper, from 24.2 percent in a prior survey.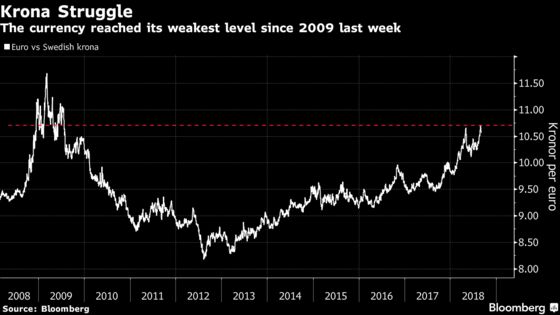 In the survey conducted Aug. 31 to Sept. 3, analysts were asked likely krona levels versus the euro assuming the pair was around 10.60 ahead of the elections. Below is a compilation of analyst views and potential krona reactions under key scenarios:
Four-party center-right Alliance emerges as the biggest bloc:
This scenario is the most likely outcome, according to betting sites; in this case the center-right led by the Moderates will form minority government; have understanding from Social Democrats, passive support from Sweden Democrats
Krona would strengthen to 10.40 to the euro in the immediate reaction and 10.00 in the longer-term, the median of 10 responses showed
Social Democrats plus Greens back in power:
This is the current government setup and may be forced by the opposition to also include the Left party
Krona move would be minimal -- moving to around 10.55 to the euro shortly after the result and settling toward 10.23 in the longer term, the median shows
The most common possibility was for the Sweden Democrats gaining ground and in some cases becoming the largest party in the parliament
The median for the immediate reaction was for the krona to weaken to 10.65 and in the longer term settle at 10.50
"The Swedish krona is in the line of fire," said Lee Hardman, currency strategist at MUFG Bank Ltd. "The potential for the Sweden Democrats to exert more political influence could prove unsettling for market participants as well as the potential for a less stable government"