South Korea Pushes to Revive Nuclear Talks in Trip to Pyongyang
(Bloomberg) -- South Korean envoys headed to Pyongyang on Wednesday to revive nuclear talks between the U.S. and North Korea, as President Donald Trump signals growing frustration with the negotiations two months after he met Kim Jong Un in Singapore.
A five-member delegation sent by South Korean President Moon Jae-in may meet with Kim during the day of talks in the North Korean capital. The same team -- including National Security Office head Chung Eui-yong and National Intelligence Service chief Suh Hoon -- helped broker the historic first meeting between Trump and Kim in June.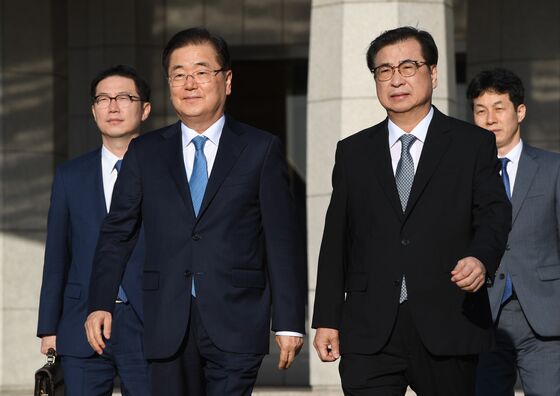 The envoys now face what may be a more difficult task as disagreements mount over the speed and sequence of efforts to eliminate North Korea's nuclear arsenal and finally end the Korean War. While Kim pledged in June to "work toward complete denuclearization of the Korean Peninsula," his agreement with Trump didn't define what that meant or offer a timetable for carrying it out.
Trump canceled a North Korea trip by Secretary of State Michael Pompeo last month, a day after it was announced, citing a lack of progress.
Moon and Trump spoke for almost an hour on Tuesday morning Washington time, according to a statement from the South Korean president's office. Moon told Trump that improvements in inter-Korean ties would help the goal of denuclearization, and the two leaders agreed to meet at the United Nations General Assembly in late September.
White House Press Secretary Sarah Huckabee Sanders later confirmed in a statement that the two leaders planned to meet on the sidelines of the UN session. She said Moon told Trump the South Korean envoys' trip to Pyongyang would include a meeting with Kim on Wednesday, though one of the envoys said it wasn't yet clear whether the North Korean leader would see them during their visit.
In an interview Thursday with Bloomberg News, Trump said he can be patient with Kim despite the lack of appreciable steps to denuclearize.
"I have greater patience than any human being in the world," Trump said during the White House interview. He said his relationship with Kim remains "good" and pointed out that before their summit in Singapore in June, North Korea returned several Americans it had detained and has continued to refrain from tests of nuclear weapons or missiles capable of carrying them.
"You've had no missile testing, you've had no rocket testing," Trump said. "We got back our hostages. And there's been no nuclear tests. And that's pretty good."
Beyond that, though, U.S. Director of National Intelligence Dan Coats said at a conference in the Washington area on Tuesday that "we cannot confirm that North Korea has taken any other denuclearization steps at this time" because of the lack of verification capabilities on the ground in North Korea.
Ahead of his trip to Pyongyang, South Korea's Chung said, "Now is a crucial period for establishing peace on the Korean Peninsula. Peace on the Korean Peninsula goes hand in hand with complete denuclearization."
The South Korean envoys were also seeking to reach agreement on a date and agenda for Moon's own planned trip to Pyongyang later this month. The group will carry a letter to Kim from Moon, who may become the first South Korean leader to visit Pyongyang in 11 years.
Moon, who was elected last year on a promise to improve ties between the two Koreas, has tried to prevent the nuclear disagreements from disrupting reconciliation efforts. Moon and Kim are seeking to replace the armistice that halted fighting in 1953 with a formal peace treaty.
Chung told reporters that a liaison office at the Gaeseong industrial complex was ready to open and that he expected a "good outcome" on that from the visit. Moon's government has rejected concerns that the liaison office would violate United Nations and U.S. sanctions against North Korea, saying its operation would bring the country no economic benefits.