Sanctioned Kremlin Banker Apologizes for Calling Johnson a 'Freak'
(Bloomberg) -- The head of Russia's second-largest bank has apologized for calling former U.K. Foreign Secretary Boris Johnson a "freak" in remarks to university students in Moscow.
VTB Chief Executive Officer Andrey Kostin's "emotional comment" was made "out of deep disappointment regarding the crisis in the relations between our countries," according to a statement by the state-owned bank. "However, this cannot serve as grounds for rude public statements."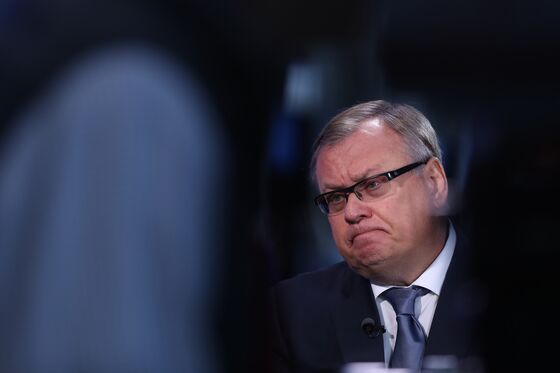 The banker, who was placed under U.S. sanctions in April, made the undiplomatic remark as he stood with Russian Foreign Minister Sergei Lavrov before students at Moscow State Institute of International Relations on Monday. After hailing Lavrov's expertise, Kostin drew laughter and applause when he said "Look at, excuse me, the freaks in the West, at Johnson and others."
Johnson, who resigned in July after two years as the U.K.'s top diplomat, has his own history of insults. He won a competition organized by a U.K. magazine for an offensive poem about Turkish President Recep Tayyip Erdogan shortly before he became Foreign Secretary in 2016. As a newspaper columnist in 2015, he compared Russian President Vladimir Putin to Dobby the House Elf from the Harry Potter films.
Johnson and Lavrov appeared to get on well when they met in Moscow in December, with the British Conservative politician declaring himself a "committed Russophile" and his Russian counterpart saying he "trusts Boris." Three months later, the Kremlin denounced as "disgusting" comments made by Johnson that compared Russia's hosting of the 2018 soccer World Cup to Hitler's 1936 Olympics, saying the remarks weren't fit for the foreign minister of any country.
Relations between the U.K. and Russia, already frosty, plunged into crisis in March over the nerve-agent poisoning in England of a former spy and his daughter. The U.K. blamed Russia and persuaded allies around the world to conduct coordinated expulsions of more than 150 Russian diplomats, prompting tit-for-tat retaliation from Moscow.
Johnson's tenure "fell during a period of significant deterioration of already quite troubled Russo-British relations," VTB said in its statement. "Mr. Andrey Kostin sincerely apologizes to Mr. Boris Johnson."