South Sudanese Vow to Stop Running as Peace Deal Calms Guns
(Bloomberg) -- Gunshots and screams rang out as Rosemary Keji fled her village almost two years ago, one of millions of South Sudanese escaping civil war. After finally returning last month, she's planting potatoes beside her wrecked house in Yei River state and vowing never to leave again.
The 28-year-old mother of two is one of a steady trickle of refugees coming back from neighboring countries after August's preliminary deal to end almost a half-decade of conflict. It's a sign of fresh hope that the latest peace bid will hold and the world's third-largest refugee crisis after Syria and Afghanistan may have turned a corner.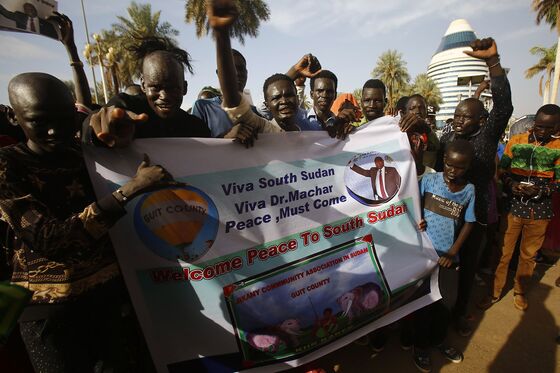 Refugees have arrived in the "tens of thousands," said Santino Bol Muoter, deputy chairman of the state-run Relief and Rehabilitation Commission, who's working with aid agencies to get an accurate count of people coming back. "What we are seeing are the people who are assessing the ground and establishing something before the rest can follow them."
Large-scale returns would mark a turnaround for the oil-rich East African nation, which in December 2013 plunged into a conflict that's claimed tens of thousands of lives and seen both sides accused of atrocities in violence that's often had an ethnic dimension. By July, almost 2.5 million South Sudanese were sheltering in neighboring countries including Uganda, Sudan and Ethiopia, straining relief efforts.
Returning remains a big gamble. There's plenty of lingering mistrust between President Salva Kiir's government and rebels led by his former deputy, Riek Machar, according to Jacob Dut Chol, a political science lecturer at the University of Juba in the capital. The leaders signed an initial power-sharing deal in early August amid international pressure and other warring parties may feel left out, complicating its success, he said.
Kiir and Machar's engagement "has to be very high with a lot of commitment because if someone comes up to cause a rift between the two leaders we will see a scenario of 2016 at play between them again," he said by phone, referring to the failure of a previous attempt at peace.
Amnesty International is also casting doubt on the country's safety. In a report released Tuesday, the London-based group said South Sudanese authorities have arbitrarily arrested and tortured people, causing the deaths of some, even as they made repeated promises to release detainees. Amnesty has previously documented at least 20 deaths in detention between February 2014 and December 2016.
Those caring for the refugees say it may be too early to come back home. While there have been some "spontaneous" returns due to the pact, the country isn't safe enough to recommend repatriations, said Eujin Byun, a spokeswoman for the United Nations Refugee Agency in South Sudan.
Byaruhanga Godfrey, an official dealing with refugee issues for the government of Uganda -- the largest host with about a million people -- said they haven't been advising returns and those choosing to do so are acting on their own initiative.
That's what Moses Ojok, a 37-year-old farmer from the southern state of Torit, is doing. He fled to Uganda in early 2017 after armed men stormed his village, killing his elder brother. But he says life in a crowded refugee camp has been tough for his family.
"The solution is to return home where there's space for us all to work together," he said by phone from Pajok, his hometown. "If this peace will hold, then life is going to become better for us all."
Any enactment of the power-sharing deal won't happen until May at the earliest. Machar's rebels last week refused to sign the latest version of the pact, before relenting while submitting their reservations to regional mediators. Kiir and Machar are due to sign the final accord in Ethiopia this month.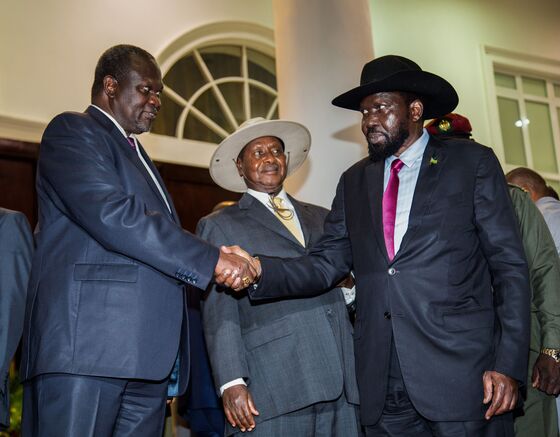 It'll be their second attempt to form a transitional government since the war began. The first bid failed weeks into its enactment about two years ago as deadly fighting flared between factions in Juba and Machar eventually fled into exile. The violence spread to the once-peaceful Greater Equatoria region in the south, sparking the largest refugee exodus.
Over a third of South Sudan's estimated 12 million citizens have been uprooted by the conflict, with more than 1.8 million having sought shelter elsewhere in the country, including at UN protection sites.
The chairwoman of the UN Commission on Human Rights in South Sudan, Yasmin Sooka, has said many returning refugees, especially in Equatoria, have found their homes and land occupied by other ethnic groups.
"Many feel frustrated at the government inaction of return of land and homes to the original owners," Sooka told reporters in Juba on Aug. 24. It's "going to be a major challenge in the country as peace implementation begins to take place," she said.
While some refugees may be making only brief visits to check the situation, Keji in Yei River is confident the lessons have been learned. She and son and daughter fled as gunmen went house to house in her village near Yei town, the regional capital, in December 2016. She returned from Uganda on Aug. 10, five days after the warring sides made their initial agreement.
"We have heard the message that the leaders have signed peace and won't be fighting," she said by phone. "I don't think we need to run again."