Ramaphosa's South African Recession Heightens Election Risk
(Bloomberg) -- President Cyril Ramaphosa's job of getting South Africa back on track just got a lot more perilous with the surprising news that the economy has slipped into recession.
He must walk a fine line between restoring investor confidence battered by almost nine years of misrule by his predecessor, Jacob Zuma, while reducing widespread poverty. And next year's general elections are looming.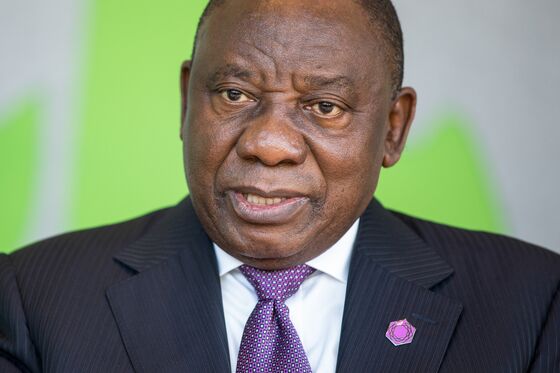 The "Ramaphoria" that buoyed the markets and the public at large after Ramaphosa engineered Zuma's ouster in February has long since faded. Adding to the woes of Africa's most-industrialized economy are an escalating global trade war that's soured sentiment toward emerging markets and an official unemployment rate near a 15-year high of 27.2 percent.
"There is an electorate that's increasingly unhappy about bread-and-butter issues and the economic reality they are facing," Daniel Silke, the director of Political Futures Consultancy in Cape Town, said by phone. "I would argue that Cyril Ramaphosa's inability to grasp the nettle when it comes to rebuilding confidence is a contributor. We have seen very little to stimulate the economy."
Ramaphosa took over the African National Congress at a time when the ruling party's support slipped to a record low of 54.5 percent in 2016 municipal elections that saw it lose control of Johannesburg, the economic hub, and other major cities to opposition coalitions. That result was put down mainly as a result of discord over Zuma's scandal-marred tenure, and Ramaphosa had a mandate to clean up the mess.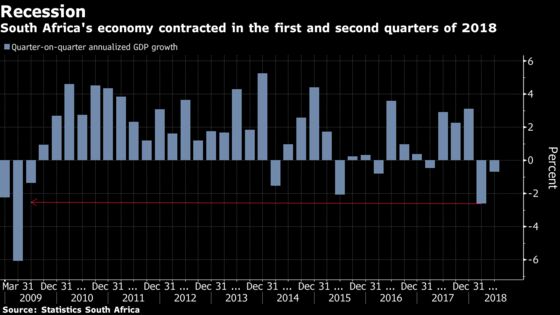 While Ramaphosa has made progress in a campaign to attract $100 billion in new investment to bolster growth, his plans have been undermined by the ANC's decision to amend the constitution to allow for land to be expropriated without compensation to help transfer more ownership to black farmers two decades after the end of apartheid.
"The gross domestic product numbers pose a particular challenge to President Ramaphosa," said Roland Henwood, a political science lecturer at the University of Pretoria. "He has to balance the pressure to grow the economy but at the same time he has to do things that go against the logic of growing the economy, in terms of pacifying a restless population."
Investors have also been rattled by the government's decision to give civil servants and workers at state companies above-inflation increases, a move that places further pressure on its already strained finances.
The rand has weakened almost 20 percent against the dollar this year, the fourth-worst performer among 24 emerging markets monitored by Bloomberg. At the same time, business confidence levels slumped for six of the seven months through July, after initially soaring after Ramaphosa won control of the ANC in December. The currency dropped 0.9 percent to 15.4769 per dollar as of 8:51 a.m. in Johannesburg on Wednesday.
"Adopting policy positions that help stimulate growth is what's required,'' said Ongama Mtimka, a political science lecturer at Nelson Mandela University in Port Elizabeth. "Land reform by its nature is a polarizing policy which in the short term may result in negative economic growth because people stand on the sideline due to the uncertainty of the form the policy is ultimately going to take."