Old Politics Dies Hard in Brazil Despite Sweeping Corruption
(Bloomberg) -- In the aftermath of the greatest political corruption scandal in Brazil's history and the worst recession on record, the nation's desire for a profound renewal is being met by a political elite digging in its heels.
It's not just the leading presidential candidates, all of whom represent established parties and have been in politics for at least a decade, one of them for half a century.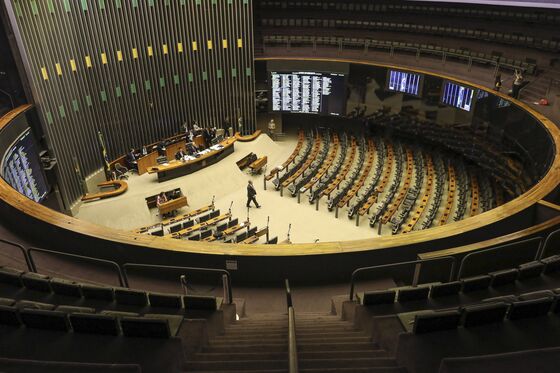 Hundreds of candidates for Congress seek the security of their current jobs. Of the 513 lower house deputies, 402 -- or 79 percent -- are running for re-election, more than in 2014. Fifty-nine percent of the senators eligible for re-election will stand for office, the highest number since 2002.
"The elections of 2018 have already been sabotaged," Samuel Emilio Melo, the national coordinator of Acredito, an organization pushing for political renewal, said, adding that party leaders who control the purse strings tend to prioritize "old chieftains".
The Carwash investigation does not seem to have deterred those who have fallen foul of prosecutors. At least 40 members of the lower chamber and 17 Senators who are under investigation want to renew their mandates, according to research by Jota, a website specializing in Brazilian legal affairs. And that protects them from being tried in any tribunal other than the Supreme Court.
Brazil's election laws offer considerable perks to elected politicians, according to Antonio Augusto de Queiroz, from the congress' in-house consultancy, DIAP.
"Candidates for re-election have comparatively huge advantages in comparison with those who aspire to take their place," he said. As an example, Queiroz cited the fact that an elected politician can run without leaving office, a fact that automatically raises his profile above newcomers. The incumbent also has more access to party funds.
While incumbents may be digging in their heels, that doesn't mean nobody is trying to unseat them. This year actually features the highest number of candidates running for the lower chamber: 8,332 are vying for just 513 places.
Indicted by the Supreme Court for money-laundering and conspiracy, congressman Lucio Vieira Lima is bidding for his third term of office, saying that giving up on politics because of his legal troubles would be an admission of guilt.
"I want to run and win. If I didn't run, I would acknowledge a guilt that I don't have," he told Bloomberg in an interview. "There are those who think that I'm in the running just for the privileged forum, but there are deputies with that benefit who are going to jail anyway."
The legal impunity of Brazil's politicians is notorious. One of the most striking cases involved Paulo Maluf, a former governor of Sao Paulo. Maluf's decades-long career was full of controversy and accusations, but only in 2017 did the Supreme Court sentence him to seven years for money-laundering and order his mandate as a federal deputy stripped.
Various movements calling for political renewal have surged in recent years due to Brazilians frustration with politics as usual. Acredito, Portuguese for "I Believe", has brought together 2,000 young people in 14 states and will run 30 candidates for the positions of state and federal deputy as well as for the Senate.
Though Melo believes there is little chance of serious change in these elections, he's emphatic about what has to be done to ensure a higher turnover in future.
"What we need to do is to discuss with the next congress clear, transparent and meritocratic criteria so that there is a fairer distribution of the electoral fund," he said.