Kavanaugh Vows to Be an 'Umpire' as Democrats Fight Confirmation
(Bloomberg) -- U.S. Supreme Court nominee Brett Kavanaugh is set to tell lawmakers he'd be an umpire and "impartial arbiter" if confirmed as the Senate begins hearings on a judicial selection that Democrats are trying to thwart.
"A good judge must be an umpire -- a neutral and impartial arbiter who favors no litigant or policy," Kavanaugh will say in his opening remarks, excepts of which were released by the White House on Tuesday. "I am not a pro-plaintiff or pro-defendant judge. I am not a pro-prosecution or pro-defense judge. I am a pro-law judge."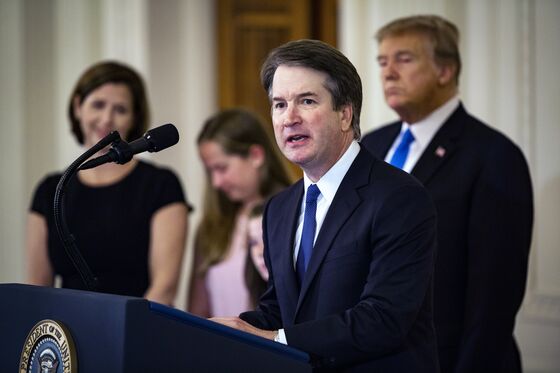 President Donald Trump's pick to succeed the now-retired Justice Anthony Kennedy is a good bet to shift the court to the right, perhaps sharply so. As a U.S. appeals court judge in Washington since 2006, Kavanaugh struck down federal regulations, backed gun freedoms and questioned abortion rights.
But with his confirmation hearing scheduled to start Tuesday before the Senate Judiciary Committee, Democrats haven't been able to undercut Kavanaugh's status as a heavy favorite to win confirmation in the Republican-controlled Senate. Both sides have pored through tens of thousands of pages of judicial opinions, speeches and documents, though Democrats say that includes just a small fraction of the material from Kavanaugh's five years as a top White House official.
Democratic Senator Chris Coons of Delaware, who is a member of the Judiciary panel, said that he plans to question Kavanaugh on his role in "some of the greatest partisan battles of our lifetime," including in independent counsel Kenneth Starr's controversial investigation of Bill Clinton's presidency and on behalf of George W. Bush's campaign in the Florida recount that determined the 2000 presidential election.
"He is someone who has staked out positions on the far end of the judicial mainstream," Coons told CNN Tuesday.
Democrats say that, if confirmed, Kavanaugh could help protect Trump from investigations by Special Counsel Robert Mueller and federal prosecutors in New York.
They point to Kavanaugh's suggestion two decades ago that the Supreme Court might have been wrong in 1974 when it unanimously forced President Richard Nixon to turn over secret White House tape recordings. Kavanaugh has separately called on Congress to pass legislation to shield sitting presidents from criminal investigations while in office.