Congo's Top Court Bars Opposition Leader Bemba From Election
(Bloomberg) -- The Democratic Republic of Congo's top court disqualified opposition leader Jean-Pierre Bemba from this year's presidential election because of his International Criminal Court conviction for witness-tampering.
The decision confirms the removal of a second key opponent from the race against President Joseph Kabila's anointed successor and increases the risk of protests by Bemba's supporters. It also raises questions about the credibility of the Dec. 23 presidential and parliamentary votes in the cobalt-rich nation, which hasn't had a peaceful transfer of power since it gained independence from Belgium in 1960.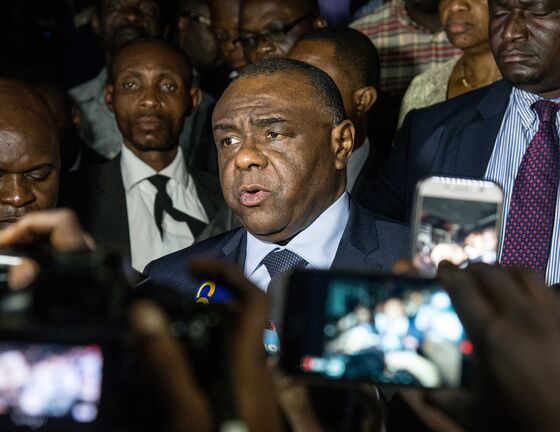 The Constitutional Court "confirms the ineligibility of Jean-Pierre Bemba Gombo for witness-tampering by resorting to corruption," according to a ruling broadcast on state television in the capital, Kinshasa, on Monday night. The electoral commission, known as CENI, initially excluded Bemba on Aug. 24, a decision that was unsuccessfully appealed by the major opposition party he leads, the Movement for the Liberation of Congo, or MLC.
The court agreed with CENI that witness-tampering is a crime of corruption and therefore bars Bemba from standing for president under Congolese law. Bemba's party rejects this interpretation.
The MLC is forming a crisis committee "with other forces of change to develop a plan of civic actions," Secretary-General Eve Bazaiba told reporters Tuesday in Kinshasa. She said the court's ruling was "irregular" and "arbitrary."
"Political and administrative institutions have lost their neutrality" and act in the "service of one man and his acolytes," Bazaiba said.
Kabila's ruling coalition has selected Emmanuel Ramazani Shadary as its candidate, ending months of speculation about whether the incumbent would seek to extend his 17-year rule and challenge a two-term limit imposed by the country's constitution. One of 15 Congolese politicians and military officials sanctioned in the past two years by the European Union, 57-year-old Shadary, who is the head of Kabila's political party, is accused of human-rights abuses and undermining democracy.
An opinion poll published in July by New York University's Congo Research Group found that Bemba would come third in an election with 17 percent of the vote, two percentage points below businessman-turned-politician Moise Katumbi and Felix Tshisekedi, the head of the largest opposition group.
Congolese authorities refused to allow Katumbi, a one-time Kabila ally, into the country when he attempted to return in early August from two years of self-imposed exile to register as a presidential candidate.
Tshisekedi and Vital Kamerhe, who finished third in the last election in 2011, were authorized by CENI to participate in the election. Samy Badibanga, a Kabila prime minister, was readmitted on Monday after being ruled out by CENI, bringing the number of approved presidential candidates to 20.
The MLC, which has a large slate of parliamentary candidates, will soon decide whether the party shall participate in December's polls, Bazaiba said.
Bemba, a vice president from 2003 to 2006, was acquitted of war crimes by the ICC in June and returned to Congo on Aug. 1 after a decade in detention in the Netherlands.
Bemba finished second to Kabila in a presidential election in 2006. He was arrested in Belgium two years later and then sentenced by the ICC to 18 years in prison for murders and rapes committed in the early 2000s in the neighboring Central African Republic by fighters belonging to a Congolese rebel group he then led.