Warring Thai Political Parties Open to Cooperating Against Junta
(Bloomberg) -- Thailand's two major political parties, which have battled viciously over the past decade, are open to joining hands after the next election to blunt the power of unelected officials.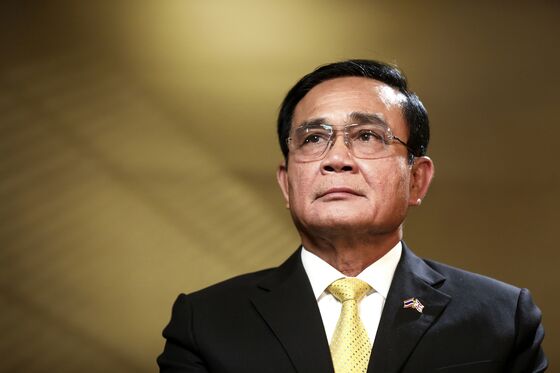 In separate interviews last week, a top leader of the Pheu Thai party affiliated with former Prime Minister Thaksin Shinawatra and Democrat party head Abhisit Vejjajiva didn't rule out an alliance after the election planned for February, if certain conditions were met. Thailand has been under military rule since a 2014 coup by former army chief Prayuth Chan-Ocha.
While any collaboration would be fragile, Pheu Thai and the Democrat party may have a common interest in preventing unelected members of parliament from installing Prayuth or another military figure as premier after the vote. Under a constitution written after the last coup -- Thailand has had about a dozen military takeovers since 1932 -- a 250-member Senate appointed by the junta will have a say in picking the next prime minister.
"I am trying to persuade political parties to not support the NCPO leader in becoming the next prime minister after the election," said Chaturon Chaisang, a prominent Pheu Thai member, referring to the National Council for Peace and Order, the official name of the junta. "I personally have not shut the door for working together with any other party, including the Democrats."
Chaturon said he expects Pheu Thai to win the most seats in the election. Although it would be "very difficult" for Pheu Thai and the Democrats to join hands, he said, at the same time it would be challenging for a single party to gain a majority under the current electoral system.
"If one of the parties, any party, decides not to ally itself with any other parties, political parties might not be able to form a government," Chaturon said. "That's why I personally never say that we will never work together, or ally ourself with any party."
Thaksin's allies have won the most seats in every election dating back to 2001, with the military or courts intervening to overturn the results on several occasions. Thaksin fled the country and has lived overseas since a 2008 conviction for abuse of power -- a verdict he says was politically motivated.
Abhisit, who led Thailand from 2008 to 2011, said that the 250 senators should respect the will of the people in picking the prime minister. His Democrat party has finished second in every election it's participated in since 1992, and he became prime minister only after parties in Thaksin's ruling coalition switched sides in 2008 after protesters seized Bangkok's international airport.
"What would be the point of having elections if they are not going to be meaningful," Abhisit said in an interview. "We are all responsible for where the country is today."
He indicated that it wouldn't be easy for the Democrats to align with Pheu Thai.
"We will only join a government that we believe will best serve the interests of the people," Abhisit said. "We don't yet know how Pheu Thai is going to evolve, but I have said before that if Pheu Thai cannot step out of the shadow and the interests of the Shinawatra family, and do not learn the lessons of the abuses of the past, it will be difficult for us to work with them."
Prayuth has said an election may take place on Feb. 24, but the date isn't confirmed. The military administration has repeatedly pushed back the timeline for the vote and still continues to ban political campaigning, although it plans to relax some other rules.
Investors are watching for progress toward a poll. Standard Chartered Bank expects further clarity in the election timeline to bolster prospects for greater capital inflows to Thailand.
But there may be longer term risks after the vote. Prayuth will likely return as prime minister, but the falling popularity of the junta means social stability could deteriorate, BMI Research wrote in July.
Chaturon said Thaksin was still contributing to Thai politics and Thai society, but the party had to learn to operate without him.
"This constitution and the relevant organic laws prohibit him from getting involved with the party," Chaturon said of Thaksin. "If he is allowed by the party to have influence on the party, the party will be dissolved. The party must learn to pursue its duty independently of him."