Trump Vows to 'Respond Swiftly' If Assad Uses Chemical Weapons
(Bloomberg) -- The Trump administration told Bashar al-Assad and his Russian and Iranian allies the U.S. "will respond swiftly and appropriately" if the Syrian president uses chemical weapons in Idlib, the last major rebel holdout in the country's seven-year-old civil war.
The warning came hours after President Donald Trump warned Assad in a tweet against "recklessly" attacking the northwestern province.
"Let us be clear, it remains our firm stance that if President Bashar al-Assad chooses to again use chemical weapons, the United States and its Allies will respond swiftly and appropriately," the White House said Tuesday in a statement.
Kremlin spokesman Dmitry Peskov criticized Trump's warning as "not a comprehensive approach." He said the problem of terrorists hiding out in Idlib "needs to be dealt with" and that the Syrian military is preparing to do that, though he didn't indicate how or when.
Assad's forces and their allies are massed for the assault on Idlib, which would probably be the final major battle of Syria's civil war. While smaller insurgencies are likely to smolder in pockets of the country remaining outside Assad's control, Idlib's fall would spell the end of large-scale armed opposition to the regime.
The fate of Idlib, home to almost 3 million people, is expected to top the agenda at a Russian-Turkish-Iranian summit in Tehran on Friday. Turkish President Recep Tayyip Erdogan is likely to push against an all-out, prolonged assault that would send a new wave of refugees toward his country's border.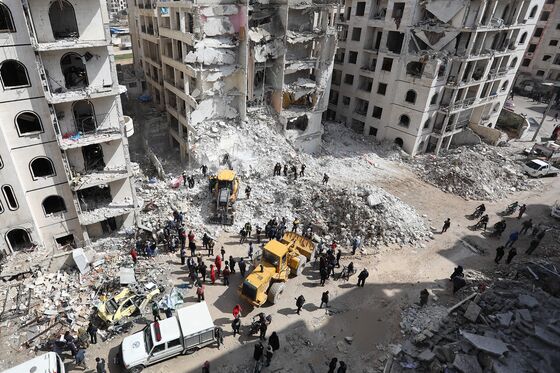 Iranian Foreign Minister Mohammad Javad Zarif said efforts would be made to minimize the human cost of the offensive and that he had discussed the matter with Turkish and Syrian officials ahead of the Sept. 7 meeting.
The U.S. and France have each warned that Assad may resort to chemical weapons in the assault. The French Foreign Ministry is "ready to act" if Assad uses lethal chemical weapons, it said in a statement on Monday.
In April 2017, and again a year later, the U.S. carried out limited airstrikes on Syrian targets as punishment for what it said was the use of chemical weapons.
Typical of the conflicting information and "fake news" accusations that have surrounded previous alleged chemical attacks in Syria, Russia's Defense Ministry accused the U.S. of collaborating with al-Qaeda-linked rebels to stage an incident that would be a pretext for another round of Western attacks on Assad's regime.
"A military operation in Idlib is inevitable, but there won't be any broader war," said Alexander Shumilin, a Middle East analyst at the Institute of Europe in Moscow. "The U.S. will strike only if chemical weapons are used and it's proved quickly. Russia will stand on the sidelines there, just like it did the last time."
The United Nations has warned that an major attack on Idlib would cause a humanitarian catastrophe. The International Committee of the Red Cross called on all parties to protect the sick and wounded and allow rescue workers to operate.
About 2.9 million people live in Idlib, including 1.4 million Syrians forced out of opposition-held towns and cities by previous Russian-backed government offensives. Around three-quarters of them need humanitarian aid, and about 10,000 are al-Qaeda-linked fighters classified as terrorists, according to the UN.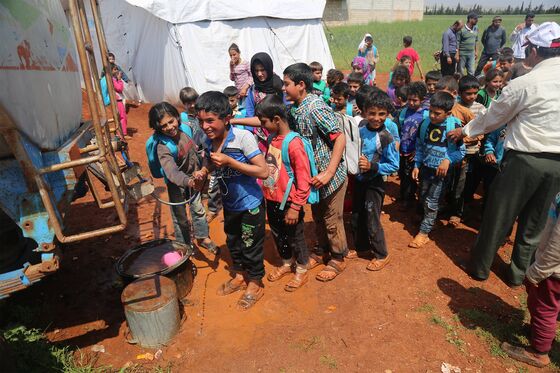 Turkey has taken more than 3 million Syrian refugees since the start of the war next door but has closed its border to more and is concerned about the infiltration of jihadists. It is unclear where Idlib's residents could flee unless the government opens humanitarian corridors into areas it controls.
The Syrian conflict began in March 2011 with peaceful protests against the Assad regime, but turned into a civil war after government forces began firing on demonstrators. The fighting has killed over 500,000 people and, according to the United Nations, displaced almost half of the prewar population of 23 million.