EU's Vestager Echoes Macron With Call to Resist Nationalist Lure
(Bloomberg) -- European Union antitrust chief Margrethe Vestager said liberal democracy can always triumph over authoritarian rule, setting out a vision that suggests she's running for one of the bloc's top posts.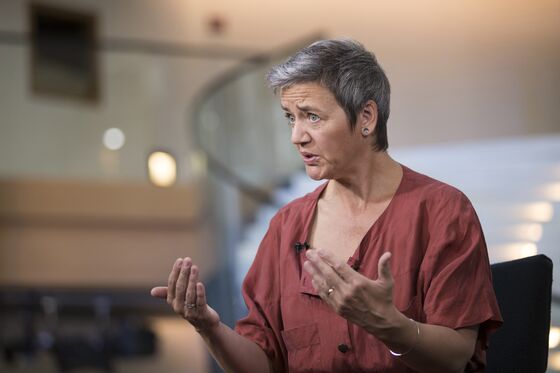 "Democratic, liberal politics -- undramatic as it may seem, compared with the promises of authoritarians –- is the tortoise that has won the race, over and over, to make our lives healthier and happier and richer," Vestager, a Dane who's from the same political family as French President Emmanuel Macron, said in a speech in Brussels on Monday.
While Vestager is known as a front-line adversary of big U.S. tech companies, her comments broadened her scope as Macron steps up denunciations of European populist leaders and the EU gears up to replace key leaders next year, including the head of the European Commission.
Macron has condemned the nationalist candidate in Sweden's election and clashed with Italian Deputy Prime Minister Matteo Salvini over the latter's anti-immigration stance. Ahead of European Parliament elections next year, he has positioned himself as the key opponent of Salvini and Hungarian Prime Minister Viktor Orban in their bid to trigger a nationalist wave of support.
Vestager said Europeans need to resist "people who want to keep us in a state of fear," including opponents of 2015 refugee influx who suggest "our values of democracy, of openness, of protecting vulnerable people, make it impossible to deal with the crisis."
As EU Competition Commissioner, Vestager has the power to make or break mergers. She fined Google 4.3 billion euros ($5 billion) in July and ordered Apple Inc. to pay more than 13 billion euros in back taxes in 2016, part of a wave of investigations into large companies that struck sweetheart tax deals in Europe.