Lula Meets Successor in Jail After Brazil Court Bans His Bid
(Bloomberg) -- Brazil's imprisoned ex-leader Luiz Inacio Lula da Silva is meeting with his aides on Monday to map out his party's next moves after the country's top electoral court banned him from running for president in October.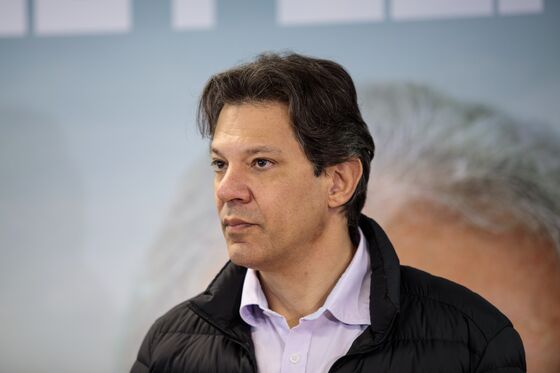 Former Sao Paulo Mayor Fernando Haddad, Lula's running mate and likely successor in the race, is in the southern city of Curitiba, where Lula is serving a prison sentence of more than 12 years on charges of corruption and money laundering.
The main decision is when to officially nominate Haddad as the candidate of the Workers' Party, or PT. So far, the party's strategy had been for Lula to remain in the race as long as possible, and immediately following the court ruling it said it would appeal. But some party leaders say Lula should throw in the towel and formally endorse Haddad as presidential candidate in order to give him sufficient time to campaign.
In a press conference on Sunday, Haddad showed no signs of a change in strategy, repeating the party's line that Lula was illegally imprisoned in order to pull him out of the election race.
With Lula out of the race and Haddad not yet fully confirmed, the campaign was in a legal limbo. Marking one of the odder twists of this highly unpredictable election, Haddad appeared in a TV spot on Sunday behind a mask of Lula, repeating the slogan "We're all Lula."
In its decision early Saturday morning, the electoral court ruled that Lula could no longer appear as candidate in radio and TV ads. In practice, party ads are often subject to legal challenges before the court and the rules change accordingly.