South Korea's Moon To Send Security Head, Spy Chief To Pyongyang
(Bloomberg) -- South Korean President Moon Jae-in will send both his national security adviser and top spy as special envoys on a one-day mission to Pyongyang Wednesday ahead of a possible inter-Korean summit this month.
President Moon named a five-member delegation to North Korea on Sunday, led by National Security Office chief Chung Eui-yong, Yonhap News Agency cited Blue House spokesman Kim Eui-kyeom as saying. The team includes National Intelligence Service head Suh Hoon and Vice Unification Minister Chun Hae-sung.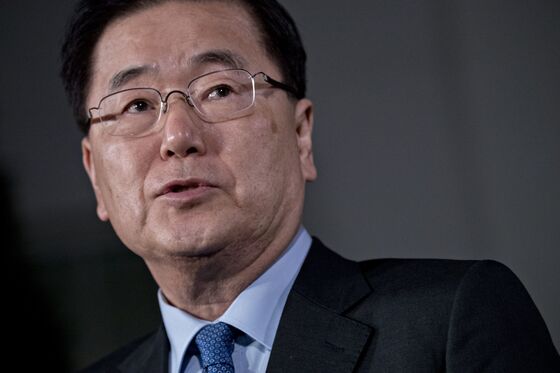 South Korea's presidential office said it is unsure whether there will be a meeting with North Korean leader Kim Jong Un during the delegation's visit, according to Yonhap.
Despite U.S. President Donald Trump calling off Secretary of State Michael Pompeo's visit to Pyongyang last week, South Korea is moving forward with its plan to hold the third meeting with Kim Jong Un in Pyongyang in September.
Kim Eui-kyeom said it's likely the date of inter-Korean summit will be set during the special envoys' trip and the delegations will discuss agendas for the declaration of the end of war and the denuclearization of Korean Peninsula, according to Yonhap.