HNA Begins to Reduce One of China's Biggest Piles of Debt
(Bloomberg) -- China's embattled HNA Group Co., which has managed to reduce one of the country's biggest debt piles by selling off dozens of assets, will probably need to slim down even further before regaining the trust of investors.
The conglomerate's total debt fell 9.5 percent to 541.6 billion yuan ($79 billion) at the end of June, down about $8.3 billion from a record set at the end of last year, according to figures derived from a half-year report dated Friday. It's the first time the number has fallen, based on public data compiled by Bloomberg stretching back to 2005.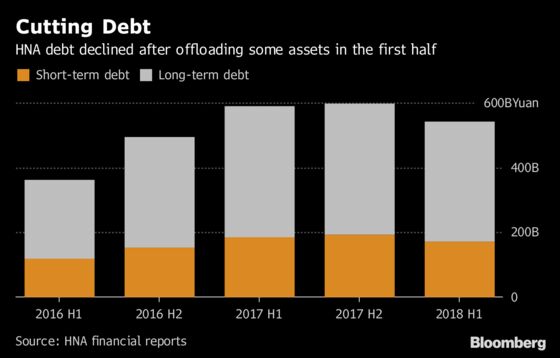 The lighter load may ease the pressure on HNA, which is seeking to recover from a binge that involved borrowing tens of billions of dollars to fund purchases ranging from big stakes in Deutsche Bank AG to skyscrapers in Manhattan. But debts remain high and the results weren't enough to shake off concerns about the company.
"The improvement does not appear material enough and management perhaps needs to do more," said Warut Promboon, managing partner at credit research firm Bondcritic Ltd. "Asset sales are a good step in the right direction."
The company, along with the likes of China's Dalian Wanda Group Co. and Anbang Insurance Group Co., is now reversing course after spearheading an unprecedented shopping spree of high-profile assets worldwide. The acquisitions ultimately drew the ire of the Chinese government amid concerns about unsustainable debt levels.
"There are only two ways out for HNA -- borrowing more money or selling more assets, but the first one is very unlikely," said Alex Wong, Hong Kong-based director of asset management at Ample Capital Ltd. "They need to sell more."
HNA has sold more than $17 billion in assets this year -- much of it coming from the sale of its holdings in Hilton Worldwide Holdings Inc. and its spinoffs -- according to a Bloomberg tally. More disposals are on the way after the company agreed to unload billions of dollars worth of shares in aircraft leasing firm Avolon Holdings Ltd. and the Radisson hotel chain. HNA is also seeking to sell buildings across America, London and China, people familiar with the matter have said.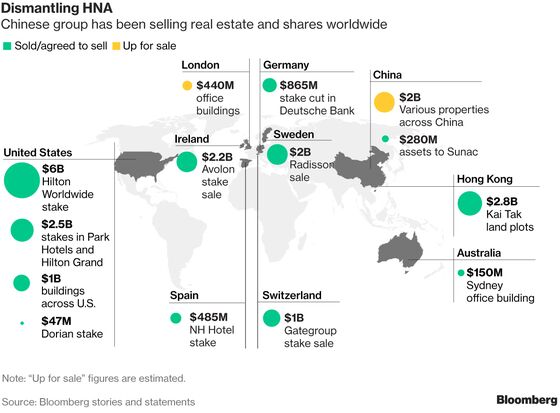 In another tailwind, China's leaders were said to have agreed in June for the government to help HNA raise funds as long as the company sells out of non-core industries, stops diversifying through acquisitions and sticks to its main travel business.
"I am optimistic they can improve their financial situation," said Andrew Collier, managing director at Orient Capital Research. "HNA's total debt is likely to decline due to asset sales. They also are getting significant support from Chinese banks, which will support their working capital."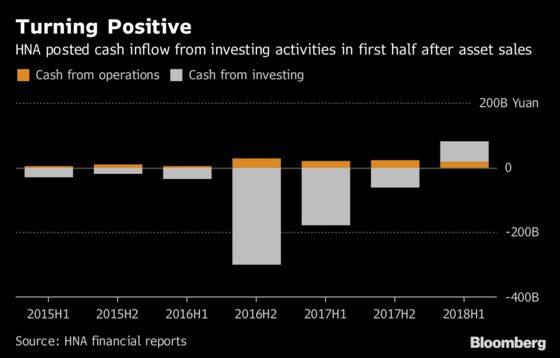 Yet challenges abound. HNA is still burdened with one of the largest interest expenses in the world. The payments, which it reduced by 7.4 percent from a record set the previous semester, ranked as the highest among non-financial companies in Asia, according to data compiled by Bloomberg as of Saturday. HNA also ranked No. 1 in Asia last year.
Its cash, equivalents and short-term investments dropped to 128.1 billion yuan, not enough to cover HNA's short-term debt. The total debt figure also remained one of the biggest for a non-financial company in Asia and was more than triple that of fellow Chinese conglomerate Fosun International Ltd.
Beyond financial challenges, HNA was roiled by the sudden death of 57-year-old Co-Chairman Wang Jian in July, a tragedy that threw a wrench at the company's normalization plans as Wang was said to be the mastermind behind the purchase of many of the assets that are now being sold.
Chairman Chen Feng has since stepped up, promoting two family members as key lieutenants in August and tightening his control over the group as he seeks to persuade banks, investors and the government to restore their confidence in HNA.
Other key figures from HNA's first-half report:
| | | | |
| --- | --- | --- | --- |
| In billions of yuan | 1H 2018 | 2H 2017 | 1H 2017 |
| Total Assets | 1,115 | 1,232 | 1,206 |
| Total Liabilities  | 657 | 737 | 718 |
| Total Equity | 457 | 495 | 488 |
| Revenue | 287 | 321 | 271 |
| Ebit | 14 | 17 | 13 |
| Net Income | 1.3 | 1.8 | 0.8 |