U.S. Midterm Election May Be Harbinger for Emerging-Market Rally
(Bloomberg) -- If history teaches emerging-market investors one thing about U.S. midterms, it's hang in there, ride out the volatility and wait for the rally.
Since 1990, a strategy of purchasing stocks in MSCI's emerging-market equity index on Oct. 31 in midterm years and selling 12 months later would have returned an average of 23 percent. In years without midterm elections, stocks gained an average of 9.3 percent over the same period.
Before then, expect a lot of gyrations.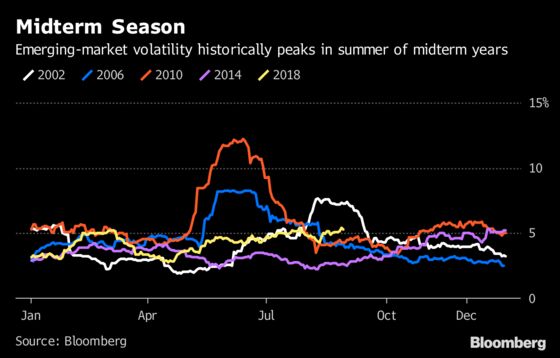 This time around, the grimmer-than-usual political landscape may prove a bonus for emerging-market assets. With the threat of losing his congressional majority, President Donald Trump has an incentive to reach a trade deal with North American allies and make progress in talks with China, according to David Hauner, a cross-asset strategist at Bank of America Merrill Lynch in London. That will probably spur a rally in emerging markets over the next few months as the dollar loses its haven status, he said.
A decline in the dollar could also bode well for developing-nation stocks. Their negative correlation to the greenback is near the strongest in a decade, meaning that any weakening of the U.S. currency will translate into higher emerging-market equity prices.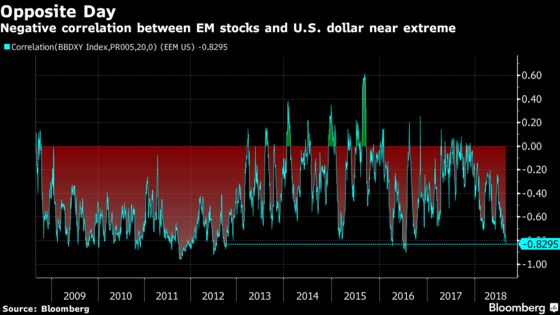 The closest political parallel to today may be 2002. Seeking to maintain his congressional majority and gear up for reelection, George W. Bush zipped across the country to 15 states in the final five days, firing up crowds at Republican rallies and paving the way for his party to gain additional seats.
Emerging-market equities and bonds rallied in the ensuing 12 months after depreciating during the first half of 2002.
Trump plans to spend 40 days on the road this fall stumping for candidates.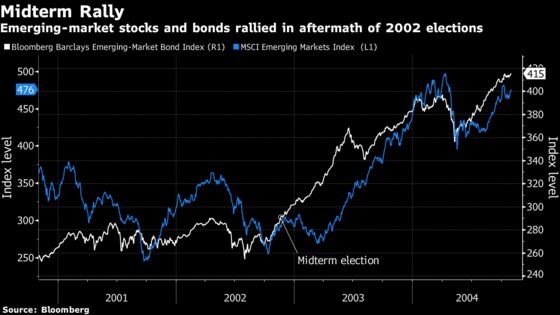 Not everyone's convinced that Trump will temper his trade rhetoric. John Normand, JPMorgan Chase & Co.'s head of cross-asset fundamental strategy in London, said that the president could very well double down on his aggressive approach abroad, escalating his push for higher tariffs on Chinese imports.
But Mona Mahajan, investment strategist at Allianz Global Investors in New York, said the summer volatility in developing-nation assets can only last so long. She expects it to ease before the November elections amid positive signs on trade with Mexico and China.
"President Trump and the administration want to get some wins prior to midterms," Mahajan said on Bloomberg TV.