Merkel Backs CSU's Weber in Race for Top EU Job, Sources Say
(Bloomberg) -- Chancellor Angela Merkel has decided to back a German candidate for the European Commission's top post, giving her stamp of approval to a member of her Christian Democratic-led party bloc, people familiar with the deliberations said.
Manfred Weber, 46, a member of Bavaria's ruling Christian Social Union and head of the European People's Party caucus in the European Parliament, is favored by Merkel as the EPP candidate in the race to replace Jean-Claude Juncker as commission president, according to the people, who asked not to be identified because the decision isn't public.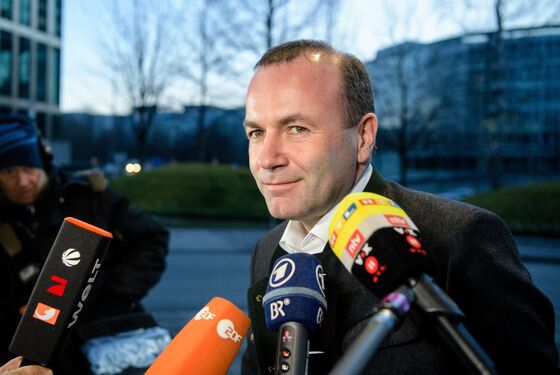 With Juncker's term ending in the fall of 2019, political jockeying is speeding up in the multistage process of choosing the next head of the commission, the EU's rule-making and executive body. If it succeeds, a Weber candidacy could eventually lead to a German heading the commission for the first time in more than 50 years. Merkel has told associates that the candidacy is Weber's to seek, according to one of the people.
The EPP, the biggest political family at the European level, opens bidding for candidacies on Thursday, ahead of a showdown with populists in European Parliament elections next year. European Commission heads are selected by national governments with the parliament's approval.