McCain Lies In State at U.S. Capitol After Bipartisan Ceremony
(Bloomberg) -- Vice President Mike Pence and members of Congress set partisanship aside Friday to honor Senator John McCain as an American patriot as his body arrived to lie in state at the U.S. Capitol Rotunda, a rare tribute.
"On behalf of a grateful nation, we will ever remember John McCain served his country, and John McCain served his country honorably," Pence said during the ceremony.
A two-time presidential candidate and six-term senator, McCain served 35 years altogether in the House and Senate, which flank the Rotunda. He is the 35th American and 13th senator to have the honor.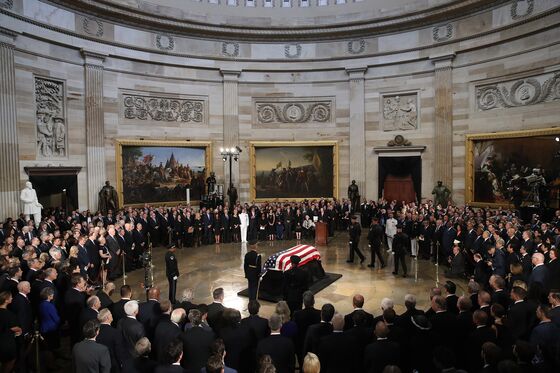 He died at age 81 on Aug. 25 after a battle with brain cancer.
The Rotunda was opened for members of the public to view the casket through Friday evening. Thousands of people waited for hours in a long line outside the Capitol to pay their respects. Many used umbrellas to shield themselves from the sun.
The ceremony was attended by McCain's family -- including his 106-year-old mother, Roberta -- Senate and House Republican and Democratic leaders and other lawmakers, government officials and invited guests. Wreaths were presented on behalf of the Senate, the House and the Trump administration.
"This is one of the bravest souls our nation has ever produced," House Speaker Paul Ryan said of McCain, who spent 5 1/2 years in captivity as a prisoner of war in Vietnam. Ryan told the audience, "However you choose to do your part, I hope you do it in the way he did."
McCain's casket will remain at the Capitol until Saturday morning, when a motorcade will carry it to a funeral service at the Washington National Cathedral. That will be followed by a private burial ceremony Sunday at the U.S. Naval Academy in Annapolis, Maryland.
His arrival at the U.S. Capitol followed a church service on Thursday in Arizona.