Lula's Candidacy at Stake in Top Court Ruling Friday
(Bloomberg) -- Brazil's highest electoral court is set to rule on Friday on the fate of Luiz Inacio Lula da Silva, the leftist icon who is attempting a comeback bid for the nation's top job despite a lengthy jail sentence.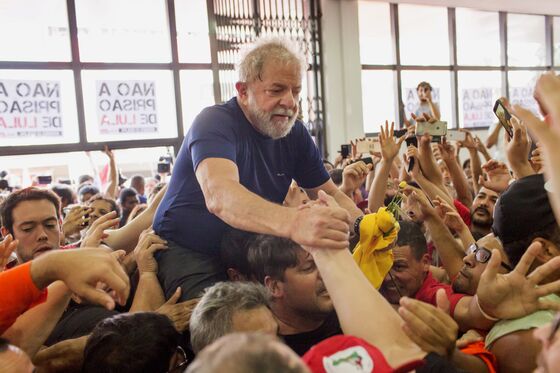 The court, known as the TSE, will rule on the legality of Lula's presidential candidacy at a special session in Brasilia. They may also rule on whether or not he can partake in free television and radio campaigns. Deliberations started at 2.30 pm Brasilia time, but the judges are discussing other candidates first.
Lula is the unquestioned front-runner in all polls for this October's presidential election, and is the most influential political figure in Brazil's recent history. Still, he has been in jail since April after an appeals court confirmed a sentence for corruption and money laundering. The TSE will consider the country's "clean slate" law, which determines that people with criminal convictions upheld on appeal cannot run for elected office.
Brazilian assets, which have dropped in recent weeks as Lula rose in polls, gained as traders speculated Friday's ruling would keep Lula out of the TV and radio ads, lowering his ability to give a boost to whomever he endorses to replace him in the ticket.
The currency strengthened 1.8 percent as of 3:30 p.m. local time, erasing losses for the week. The Ibovespa stock index rose 0.4 percent, trimming a monthly slide.
While the former head of state remains hugely popular among the millions of Brazilians who saw their quality of life improve during his administration, Lula is also loathed by many for a sweeping corruption scandal and a devastating recession they say was triggered by the populist economic measures pursued by his Workers' Party.
So far, the court has received 17 legal challenges to Lula's bid, as well as at least two requests for an injunction demanding that he be banned from campaigning. In the event of a negative ruling on Friday, Lula's lawyers can appeal both at the TSE and at the Supreme Court.
Brazil's electoral law stipulates that the legality of all candidacies, including all appeals, must be ruled upon by Sept. 17 at the latest.