Brazil Recovery Stalls, Prompts Goldman Sachs to Cut Outlook
(Bloomberg) -- Brazil's economic recovery got little traction in the second quarter amid devastating blows from a nationwide trucker strike and growing political uncertainty, prompting Goldman Sachs Group Inc. to cut its 2018 growth forecast.
Gross domestic product rose 0.2 percent and the two prior quarters were revised downward, the national statistics agency said Friday. The median estimate by 38 economists surveyed by Bloomberg was for 0.1 percent growth in the second quarter. Compared with the same quarter of 2017, GDP rose 1 percent.
Striking truckers in May and June wreaked havoc on Latin America's largest economy, causing factories to shut down, supermarket shelves to turn bare, and growth estimates to tumble. While Latin America's largest economy is expected to pick up, expansion will be limited by high unemployment and uncertainty from this year's presidential race.
"We should get a rebound in the third quarter," Neil Shearing, chief economist of Capital Economics, said by phone. "But if you sift through the volatility of the second quarter you see the underlying growth of Brazil's economy seems to have slowed."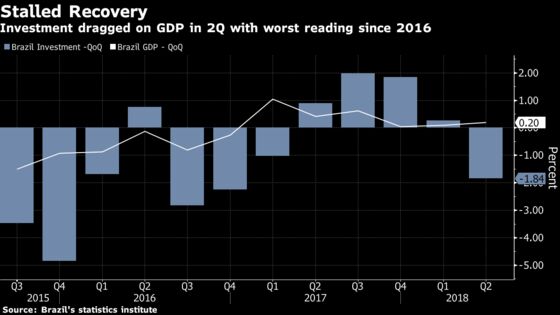 The 11-day strike hurt many of Brazil's flagship companies. Food giant BRF SA reported a record quarterly loss and car rental company Localiza's net income frustrated expectations.
Family spending, which accounts for almost two-thirds of demand, inched up 0.1 percent in the second quarter, while companies slammed on the brakes. Investment cratered 1.8 percent in the period, marking its first negative reading in more than a year, according to the statistics institute.
Thais Zara, chief economist of Rosenberg Associados, cut her 2018 growth forecast to 1.5 percent from 2 percent. Alberto Ramos, chief Latin America economist for Goldman Sachs, characterized the data as "pretty disappointing" and cut his outlook to 1.2 percent, from 1.5 percent previously. Ramos cited sluggish expansion of private consumption and mediocre growth in general.
"Were it not for the significant contribution of inventories, GDP would've declined in the second quarter," he said, adding that GDP per capita has shrank for three consecutive quarters.
Demand in Brazil remains weak as uncertainty grows over the result of the October presidential vote, according to Pedro Tuesta, senior economist with 4Cast Ltd consultancy in Washington. A wide-open election with a large field of contenders, including competitive candidates from the extreme left and right, has put the country on edge. Investors are closely watching for signs whether the winner would extend current President Michel Temer's austerity measures.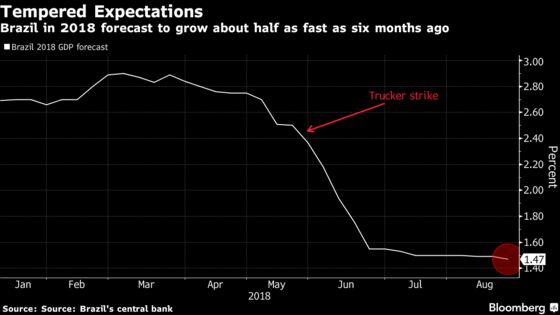 Brazil is forecast to grow 1.47 percent in 2018, according to analysts surveyed by the central bank. That's roughly half the expansion they forecast six months ago. Still, there are signs the economy is slowly recovering lost ground, said Jankiel Santos, chief economist at Haitong in Sao Paulo.
The second quarter "was a blip in the upward trend, but nonetheless we are in an upward trend," Santos said. "Conditions for recovery are there."