Barnier Warns Irish Backstop Deal Is Urgent to Unlock Brexit
European Union chief Brexit negotiator Michel Barnier demanded Britain give specific details of its plan to avoid a hard border with Ireland -- including the proposed locations of customs checkpoints.
He warned that unless the two sides reached agreement on this, there would be no deal on anything. The U.K. is scheduled to leave the bloc in March 2019 and the withdrawal agreement requires ratification by the European Parliament and lawmakers in London. That is why a breakthrough is needed this year.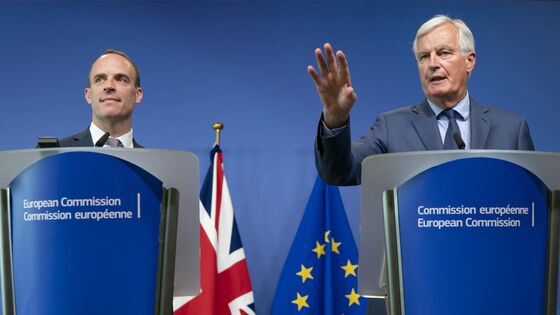 "We must have a detailed backstop solution which is legally operational," Barnier said at a Friday press conference in Brussels with his U.K. counterpart Dominic Raab, after a morning of talks. "It's a matter of some urgency. With no backstop, there will be no agreement."
In December, the U.K. and EU agreed they would come up with a backstop plan to guarantee an invisible border, in case Britain's more ambitious customs proposals don't work. But since then the two sides have been unable to agree what the backstop should look like.
The EU has proposed putting a border in the Irish Sea, effectively splitting one part of the U.K. off from the rest. That's unacceptable to the U.K.
Both Barnier and Raab insisted they were aiming to complete their talks in October, though both said there was flexibility around that.
A summit of EU leaders in Salzburg on Sept. 20 is the next key appointment -- where Prime Minister Theresa May will gauge the mood among the other 27 leaders. Another gathering in November, for which no date has been set, is being seen the next milestone.
Although Raab said he was "stubbornly optimistic that a deal is within our reach," the pound held onto its earlier losses as Barnier's comments that without an Irish border backstop there would be no deal were seen dimming investor optimism. Sterling slipped 0.2 perent to $1.2987.
On Northern Ireland, Raab's response was that "the solutions must be workable."
With everyone repeating that time is running out on negotiations, and the U.K. insistent it can't move further, any scrap of information is being scrutinized for hidden meaning even when it is a simple reiteration.
The pound is holding near a four-week high as investors hesitated to take fresh positions on the currency following a rally this week that was prompted by investors reacting positively to Barnier's last public comments on Wednesday. Barnier himself acknowledged his words so far have been mere reiterations.
The currency volatility underscores how important even the smallest of Brexit developments are to shaping market moves. With summer drawing to a close and lawmakers returning, what's clear is how little progress there seems to have been.
On the positive side, Barnier said they the "building blocks in place" for an agreement on security cooperation. He said he still needed to make progress on protecting "geographical indications" -- the rules that mean, for instance, only sparkling wine from one part of northern France can be called "champagne."
Raab replied that he wanted to resolve that as part of a complete trade deal. "We understand the importance attached," he said.