As Macron Champions Europe, a Nationalist School Opens in France
(Bloomberg) -- Across the continent, from Finland to Portugal, Emmanuel Macron is leading the charge against Europe's nationalists. He might want to look closer to home.
In western France, Marion Marechal has ambitions to train the next generation of anti-establishment, anti-European French leaders. From September, Marechal is starting her own graduate school, where she'll seek to shape the politicians of the future to help spread her vision.
"We need to win back the influence and the elite in France and our youth -- those who have a vision, roots and are patriotic -- have to work to succeed and engage in the national debate," Marechal, 28, said in an interview.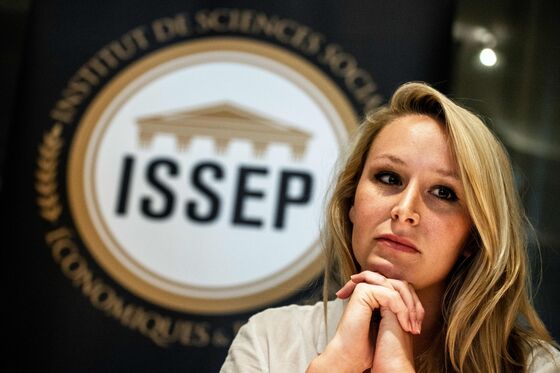 Until a few months ago, Marechal went by the name Marechal-Le Pen. The granddaughter of National Front founder Jean-Marie Le Pen, she's been touted as a rising star of the right. She spoke at the U.S. Conservative Political Action Conference in Maryland in March, and has been praised as "one of the most impressive people in the entire world" by former Donald Trump adviser Steve Bannon.
She dropped the Le Pen and put her political career on hold after her aunt Marine Le Pen lost to Macron last year, Marine Le Pen's second failure in a presidential election.
As Marechal seeks a new means of influencing the debate, Macron -- the 40-year-old poster child of liberal Europe -- is railing against her nationalist peers. In recent months he has taken his pro-EU message to Denmark, Finland, Spain and Portugal as he campaigns for May elections to the European Parliament.
"I won't retreat in front of the nationalists and those preaching hatred," Macron said in Copenhagen on Wednesday. "If they want to see me as their main opponent, they're right."
Next year's European elections are emerging as a contest between the "illiberal" policies espoused by the likes of Hungarian Prime Minister Viktor Orban and the liberal establishment parties. The Parliament that results will have a key role in approving the next European Commission, the EU's executive, meaning Europe's future direction is at stake.
For Marechal, the French president is the enemy.
"Macron is an anomaly in this great historic movement that we are seeing in Europe now," she said. "There is nothing new about him -- he is from the same elite, of money and power. His ideology is liquid, it's scraps and bits of the failed multicultural model."
Marechal is not on the ballot, but she's still pushing for a change in the balance of power. From government figures such as Orban and Matteo Salvini in Italy to insurgents Jimmie Akesson in Sweden and Alexander Gauland in Germany, those forces which broadly share an anti-immigration agenda and an antipathy toward the EU are gaining momentum.
While France has Marine Le Pen -- in parliament and with representatives in the EU chamber -- she no longer seems the best or only option. Right-wing voters regard Marechal as a better candidate than Le Pen to run in the 2022 presidential election, a June Elabe poll found. She's seen as a more influential political figure than the mainstream Republicans leader, Laurent Wauquiez.
Still, Marechal -- who became France's youngest lawmaker when elected to the National Assembly in 2012, at the age of 22 -- is biding her time before a comeback.
"Today we are seeing the intellectual re-arming of the European people," Marechal said. "I want to be one of the actors, I want to be part of the next patriotic elite, but I am humble, this will take time."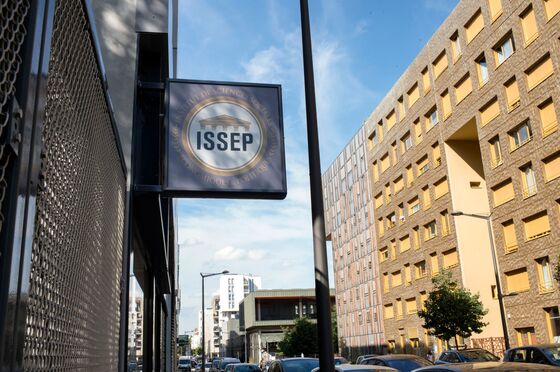 As she waits it out, Marechal is establishing her private post-graduate school. Called ISSEP, it is located in Lyon, known as "the Capital of the Gauls," after the Celtic ancestors of the French. ISSEP promises students a curriculum to help them become the new French elite, albeit with ideas "rooted in the nation's values," according to its presentation on the web.
The school, which starts late September, has enrolled 70 students to date. For masters, tuition fees are 5,500 euros ($6,400) a year for a two-year program. Marechal, the school's director, declined to give details of the school's funding, saying it receives support from private donors and small businesses and that it operates on a "small budget for now."
Marechal has recently been pictured in French magazines alongside Vincenzo Sofo, a member of Salvini's League party, whose Il Talebano blog echoes the party's EU-skeptic and anti-immigration views. Marechal said she's hoping to invite Salvini to speak at her school soon.
For all the star attraction, the move into education is a "big gamble" for Marechal, according to Jean-Yves Camus, an expert in European far-right politics.
"If she fails to make it work, to attract teachers and students, her credentials for leadership will be tarnished," he said. "And then there is the rivalry with her aunt." Marine Le Pen, he said, "is not at all ready to hand over the keys of French nationalism."