Backing for Swedish Christian Democrats Rises in Novus Poll
(Bloomberg) -- Support for Sweden's Christian Democrats rose to the highest level in eight years in a Novus poll for SVT, and it's now above the threshold needed to win seats in parliament with less than two weeks to the election.
The Christian Democrats have backing from 5.3 percent of the electorate ahead of the Sept. 9 election, up from just 3.5 percent in the previous poll a week ago, broadcaster SVT reported on Thursday. The party has been below the 4 percent parliament threshold for more than a year in SVT/Novus' polls.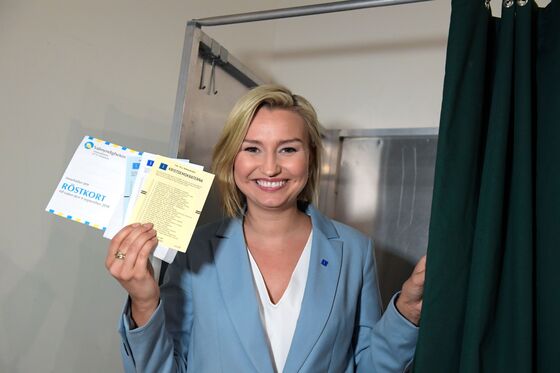 To ensure that the Christian Democrats get enough votes to win parliament seats is crucial for Sweden's four-party opposition Alliance, which aims to boot Prime Minister Stefan Lofven's Social Democrats out of power next month. If the Christian Democrats fail to get more than 4 percent, the votes it does get would be wasted and reduce the Alliance's chances of taking power. But support for the party, which is led by Ebba Busch Thor, has gained in recent days and it's been above 4 percent in several other polls as well.
Sweden Democrats Get Highest Level of Support Ever in Sifo Poll
Neither of Sweden's two traditional political blocs currently has enough support to form a majority government after the election due to the rising popularity of nationalist party the Sweden Democrats. The latest SVT/Novus poll shows the red-green bloc of government parties the Social Democrats and Greens and their Left Party ally supported by 40 percent, while the center-right Alliance is backed by 38.9 percent. Support for the Sweden Democrats is at 18.2 percent.
Here are the results of the Novus poll of 1,611 people on Aug. 22-28:
Social Democrats backed by 24.3% vs 25.1% in previous poll from Aug. 22
Moderate Party supported by 19.4% vs 19.3%
Sweden Democrats backed by 18.2% vs 19.2%
Left Party backed by 10.2% vs 8.7%
Center Party backed by 8.0% vs 10.0%
Liberals supported by 6.2% vs 5.3%
Green Party supported by 5.7% vs 6.2%
Christian Democrats backed by 5.3% vs 3.5%