Why the U.S.-North Korea Nuclear Talks Have Stalled
(Bloomberg) -- Just a few months after Donald Trump's historic handshake with Kim Jong Un in June, nuclear talks between the U.S. and North Korea are going nowhere.
Last week the U.S. president publicly acknowledged for the first time that discussions weren't going according to plan, canceling a trip to Pyongyang by Secretary of State Michael Pompeo. North Korean state media then accused the U.S. of "double-dealing attitudes" and returning to "gunboat diplomacy."
The problem is, neither side can agree on what the Singapore Declaration signed by both leaders actually means. Pompeo asserts that Kim accepted the "final, fully verified denuclearization of North Korea." North Korean Foreign Minister Ri Yong Ho says all four provisions must be implemented simultaneously, not denuclearization first.
Here's where things stand:
Trump and Kim first agreed to establish a new relationship between their two countries. In some ways, the first-of-its kind meeting did just that: The prospect of war is off the table for the foreseeable future, and the two sides have exchanged a flurry of unprecedented diplomatic meetings and handwritten correspondence since the dispute began about seven decades ago.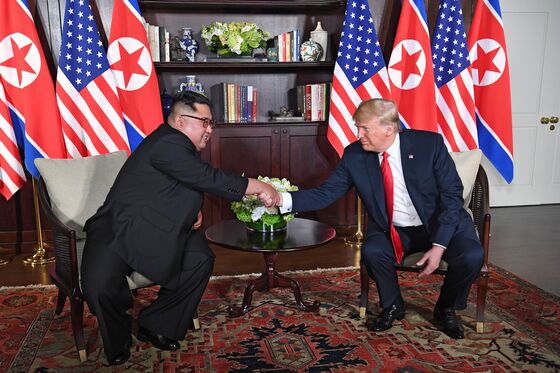 But still, the parties have made no progress toward setting up the permanent institutions and regular exchanges that characterize normal diplomatic relations, such as embassies or even less formal liaison offices. The North Koreans argue such gestures must proceed in "simultaneous actions and phased steps" to build trust. The U.S. wants more concrete evidence of denuclearization before normalizing ties.
The failure to formally resolve the 1950-53 Korean War lies at the heart of the dispute, with each side using the continued threat of attack to justify its own military activities. Thus, the agreement between Trump and Kim -- like earlier deals by their predecessors -- included a pledge to "build a lasting and stable peace regime on the Korean Peninsula."
Signing a peace treaty without a disarmament deal carries risks for the U.S. because it could legitimize Kim's control over half of the peninsula and undermine the rationale for stationing 28,000 or so American troops in South Korea. Although Trump suspended some military drills with South Korea, he has so far refused to accept a symbolic peace declaration. That's prompted the North Koreans to accuse the U.S. of backtracking on its commitments.
Despite Trump's post-summit claim that North Korea was "no longer a nuclear threat," his agreement with Kim provided no timetable for giving up his nuclear weapons. Even the phrase "complete denuclearization" -- a term preferred by North Korea's that could be read to include nuclear-capable U.S. bombers and submarines -- was left open to negotiation.
While Kim has followed through on pledges to refrain from weapons tests and dismantle testing facilities, those were moves he committed to before meeting with Trump. Pompeo has conceded before the U.S. Senate that Kim's regime continues producing fissile material and has provided no inventory of its nuclear program and facilities. North Korea has warned that the U.S.'s focus on "denuclearization first" risks derailing talks.
Read More:
North Korea's Pompeo Problem Exposes Widening Rift on Talks
Even Kim's seemingly innocuous commitment to allow the recovery of U.S. troops killed in the Korea War -- "including the immediate repatriation of those already identified" -- has proven fraught. Although North Korea did release some 55 sets of remains in July, the agreement came only after Kim's envoys failed to show up to their first planned meeting with U.S. negotiators.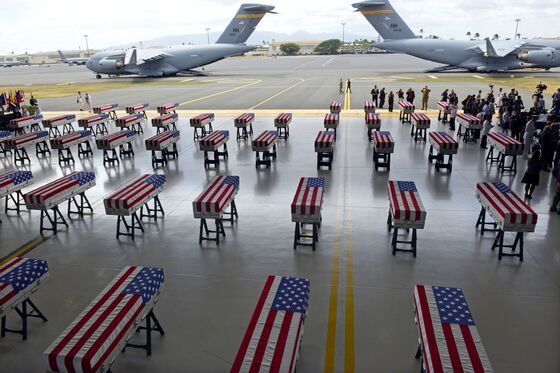 Those remains fall far short of the 200 sets that the Department of Defense previously estimated were being held by North Korea, a small fraction of the 5,300 military personnel believed lost in the country. The focus on their return gives Kim an emotionally charged bargaining chip to play before discussing any details about dismantling reactors and missiles.