Trump Sees Nafta Deal Likely This Week With Canada Talks Going 'Well'
(Bloomberg) -- President Donald Trump said talks with Canada to overhaul the North American Free Trade Agreement are going well, expressing optimism the two countries could reach a deal this week.
"We're doing really well," Trump told reporters at the White House on Wednesday, referring to negotiations between U.S. and Canadian officials in Washington. "They want to be part of the deal. And we gave till Friday and I think we're probably on track."
Earlier, Canadian Prime Minister Justin Trudeau said his government is trying to reach agreement with the U.S. this week. But Trudeau added that Canada won't sacrifice its goal of getting the "right deal."
"We're seeing if we can get to the right place by Friday," Trudeau told reporters Wednesday in Kapuskasing, Ontario. "We're going to be thoughtful, constructive, creative around the table but we are going to ensure that whatever deal gets agreed to is the right deal for Canada and the right deal for Canadians."
The U.S. is pressuring Canada to strike a deal by week's end, which is when the Trump administration plans to inform Congress that the president intends to sign a new trade pact with Mexico in 90 days that would replace Nafta. This week's showdown has Canada under the gun to either strike a deal both can live with, yield to Trump's pressure tactics or dig in and see what the U.S. will do.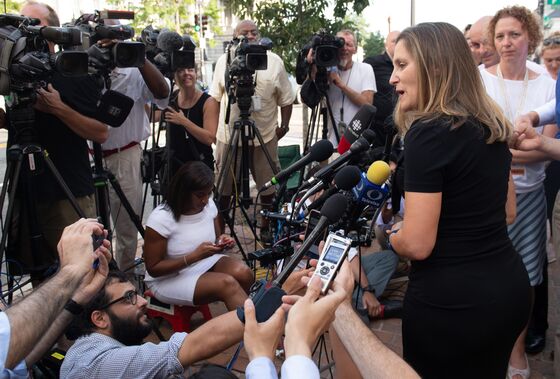 Canadian Foreign Minister Chrystia Freeland said trade officials from both countries would work into the night on Thursday and that the U.S. was showing a spirit of compromise -- but cautioned that much work remained to be done to iron out the details.
"This is a very intense moment in the negotiations and we're trying to get a lot of things done very quickly,"she reporters on Wednesday evening after her latest meeting with U.S. Trade Representative Robert Lighthizer.
Freeland gave little insight into the details of talks, beyond reiterating that Canada's position on anti-dumping panels -- a key dispute area that could help determine the fate of a deal -- are "well known" but that she wouldn't negotiate in public. Canada wants to preserve the panels in Nafta; the U.S. wants to remove them.
'Significant Compromises'
Earlier in the day, Freeland said there were "some important things that we believe we have accomplished together with the U.S. and thanks to some significant compromises Mexico was prepared to make to support Canadian workers."
The Canadian dollar pared losses after she made those comments, and was little changed at C$1.2915 per U.S. dollar at 3:19 p.m. in Toronto trading. It had been down as much as 0.2 percent earlier in the day.
Freeland said she's planning to meet with Lighthizer again on Thursday.
Canada's dairy market was a focal point for Wednesday's negotiations, a U.S. official familiar with the talks said. Trump has repeatedly deemed Canadian tariffs on some dairy products as unfair for U.S. producers.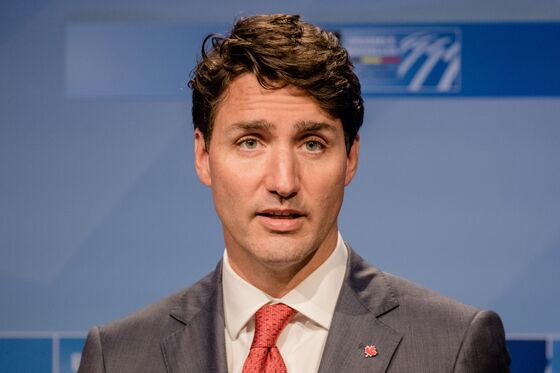 Trudeau on Wednesday restated his position of defending the "supply-management" system that controls production of some Canadian farm products like dairy.
Freeland said the U.S. and Canada agreed to not negotiate the unresolved details publicly.
The U.S. and Mexico announced a bilateral deal Monday after weeks of talks with just the two nations. Under the proposed agreement with Mexico, cars will be required to have 75 percent of their content originate in the U.S. and Mexico. The current Nafta requires that 62.5 percent originate within North America. Under the new deal with Mexico, 40 percent to 45 percent of auto content would have to be made by workers making more than $16 per hour, a condition that favors the U.S. and Canada.
Trump is now using that agreement to pressure Canada to come on board or be left out.
Earlier Monday, Freeland expressed support proposed changes to Nafta's rules for car content. "Rules of origin in cars is an incredibly complicated issue, but we had reached a high-level agreement with the U.S. in the spring, and we are encouraged by the progress they made with Mexico this summer," the minister said. "Mexico has made some significant concessions which would be really good for Canadian workers."
The U.S. made clear that the deadline for an agreement in principle is Friday, with no wiggle room, one official said. Despite U.S.-Mexico progress, hurdles remain for Canada, although markets are betting a deal will be reached that includes Ottawa even as Trudeau's political rivals begin to blame him for risking Nafta's collapse.
Freeland said Tuesday it will be an "important and constructive week" and that Canada was encouraged by progress made without them.
The U.S. has told Canada they've already compromised on the issue of the sunset clause, which was a sticking point for Canada, and that they hope that helps clear the way to a quick deal, one of the U.S. officials said.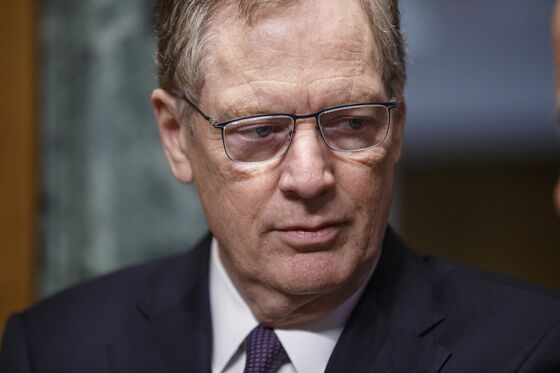 Trump is prepared to move forward with Mexico alone, on the belief that Canada has more to lose from such an arrangement, the officials said.
There are also warnings that U.S. trade law will prevent, or impede, Trump from ramming ahead on a quick timeline with only a two-country deal, and key figures in Congress are calling for Canada to be included. Trump has threatened to apply auto tariffs to Canadian exports if a deal isn't reached.
The nations are pushing to sign a deal before Mexico's president-elect takes office Dec. 1. Due to timelines set out in U.S. trade law, the U.S. would need to notify Congress of a deal by Friday, Lighthizer said this week. However, he said a notification could be sent that left open the possibility of Canada reaching a deal sometime after Friday.
Commerce Secretary Wilbur Ross said on Tuesday that it's likely the deal will be voted on next year after congressional midterm elections in November.