Swedish Krona at Crisis Levels 11 Days Before Historic Election
(Bloomberg) -- The Swedish currency is trading at levels not seen since the global financial crisis as the Nordic country girds for an historic election that has the potential to dramatically change its political landscape.
The krona fell for a fifth day against the euro on Wednesday, after hitting its weakest level in more than nine years. The decline followed weak retail sales data earlier in the week and brings the Swedish currency's losses this year to more than 8 percent against the euro.
The slump in the krona also coincides with a central bank rate decision next week. Currency traders have been acting on concerns that the Riksbank may again delay plans to start raising rates from record lows as it waits for clear signs that inflation is sticking to a 2 percent target. The central bank is due to announce its next decision on Sept. 6, just three days before the election.
Anders Eklof, a strategist at Swedbank AB in Stockholm, says protracted weakness in the krona is due to a combination of factors including lower rates in Sweden than elsewhere. He also points to the potential fallout of a trade war on an economy that relies more on exports than many others.
"On top of all that we have the Swedish general election, which not least foreign investors have seen as a risk event with the Italian election, the U.K. Brexit vote and election of Trump fresh in mind," Eklof said.
Sweden Democrats Party Reiterates Call for Referendum on EU Membership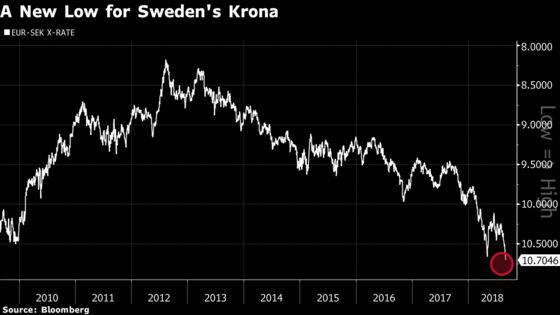 At SEB AB, Chief Quantitative FX Strategist Karl Steiner wrote in a note to clients that he sees a "clear risk that the current momentum" in Sweden's exchange rate "will continue at least until after" both the central bank's rate decision and the election.
Polls show the nationalist, anti-immigration party -- the Sweden Democrats -- is poised to make major gains in parliament, with some surveys even suggesting it will overtake the ruling Social Democrats to become the country's biggest group. Its ascent promises to make it more difficult for the two major blocs to form a viable government after the Sept. 9 election.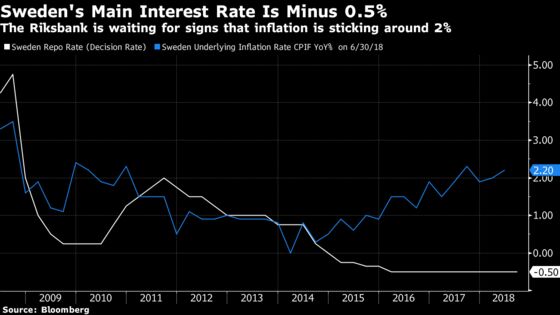 Krona Boomerang May Be in the Making as Momentum Funds Push Lows
"It seems that the krona lately has begun pricing in a higher risk that the Riksbank will push back its first rate increase into next year," Eklof said. "What could stabilize the krona would be if the Riksbank stuck to its plan to raise rates later this year, even if they reduced the probability of it happening already in October."