UBS, Janus Capital See Rally as Mexico Eludes `Economic Suicide'
(Bloomberg) -- Mexico's trade pact with the U.S. helps remove one of the biggest unknowns for Latin America's second-largest economy. And while it had been anticipated for weeks, the news could spur a near-term rally in the nation's assets, according to some of the world's largest money managers.
Investors from UBS Wealth Management to Janus Capital see buying opportunities in local sovereign debt, shares of the country's big exporters and the broader stock market. The peso rallied for a second day Monday as the benchmark equity gauge reached a two-month high and bond yields fell.
"We think the rally can continue" near-term, said Alejo Czerwonko, an emerging-market strategist at UBS Global Wealth Management's Chief Investment Office in New York, who's neutral on Mexico. Still, some good news had already been priced in, he said.
After rallying more than 1.6 percent on Monday, the Mexican peso added 0.8 percent to 18.77 per dollar at 3:34 p.m. in New York.
Canadian Foreign Minister Chrystia Freeland is leaving early from a trip to Europe to travel to Washington for Nafta talks on Tuesday, spurring optimism that the country could soon be incorporated into a new agreement.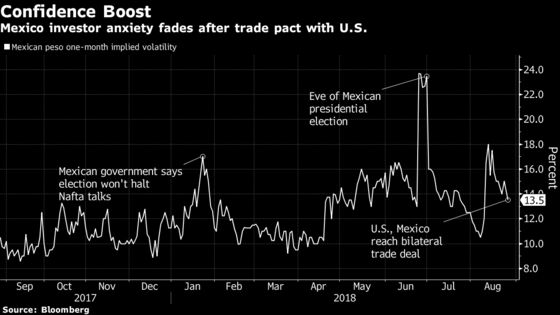 Here's what other money managers and analysts had to say:
Chris Diaz, a money manager at Janus Capital Management in Denver:
Trade deal reduces some uncertainty, although it's still lacking in details.
"We generally liked the fundamentals of Mexico. They will benefit from strong U.S. growth and the AMLO fear seems a little overblown."
Diaz said real rates look attractive and he also favors long duration in the peso.
Chase Muller, who oversees about $700 million at One River Asset Management in Greenwich, Connecticut:
"We've always expected the U.S. and Mexico (and Canada) to eventually arrive at some sort of deal. Economic suicide not to."
There's too much uncertainty with President-elect Andres Manuel Lopez Obrador's administration to be overly optimistic on Mexico, he said.
It's unlikely that Canada sours things, although Justin Trudeau's government may play more hardball.
Sonja Gibbs, a senior director at the Institute of International Finance in Washington:
Relief for investors in Mexico will still be tempered by concerns related to broader emerging-market vulnerabilities, she said.
An effective resolution on Nafta combined with Chinese support for the yuan should be broadly supportive across the asset class.
Shamaila Khan, director of emerging-market debt at AllianceBernstein in New York:
Eventually, Nafta will probably get fully renegotiated, she said.
The risks to Mexico are on the energy front and fiscal. Khan said appointments in the energy sector and negative rhetoric from the government concern her and lead to a cautious stance on Mexican assets at current levels.
Carlos Gribel, the head of fixed income at Andbanc Brokerage in Miami:
Deal shows commitment from Lopez Obrador to keep Nafta and that Trump "keeps barking more than acting" and is willing to reach a deal with anyone.
The deal is positive for Mexican markets, especially exporters, he said.
Humberto Garcia, head of asset allocation at Leumi Investment Services in New York:
"We are cautiously positive on Mexican equities."
He favors banks, given their exposure to economic stability and growth.
Companies in the mid-risk ratings categories may offer value, particularly issuers that don't rely on dollar or euro debt and generate revenues in local currency, he said.
Michael Shaoul, chief executive officer at Marketfield Asset Management in New York:
"You would hope that some further progress can be made, particularly if the peso can be strong enough to allow the policy rate to be trimmed in the months ahead."
He said Canada shouldn't have a major impact on the bilateral deal.
The buying opportunity was "a couple of months ago," he said. Still, the peso looks cheap at 18.7 per dollar if the economy settles down and emerging-market currency volatility subsides.
Mexican stock market could see more rallies like today as it nears all-time high.
Gabriela Santos, global markets strategist at JPMorgan Asset Management in New York:
Trade tensions have had powerful negative effect on sentiment and this step is "very, very important."
Emerging-market equities should benefit the most from positive trade news, while debt will be more dependent on the Fed, she said.
Uncertainty around Lopez Obrador remains "big risk" for Mexico assets.
She expects further progress in trade talks between the U.S. and China.
Tania Escobedo Jacob, a currency strategist at RBC Capital Markets in New York:
"If the U.S. wants the current congress to sign the agreement, Canada has to say yes to everything this week."
She said the peso may turn lower this week, despite Monday's gains.
"Canada has not been part of the negotiations and it is difficult to picture a scenario where they automatically agree to everything."
Ray Zucaro, the chief investment officer at Miami-based RVX Asset Management:
Trade deal removes a big uncertainty and will support Mexican assets.
Mexico "looks good" compared with other emerging markets from Turkey to Russia, Brazil and Argentina, he said.
Zucaro expects Mexican maquiladoras, factories run by foreign companies that export products, to perform well amid greater clarity on bilateral trade.