McCain's Prison, Now a Luxury Hotel, Shows His Legacy in Vietnam
(Bloomberg) -- The site of the "Hanoi Hilton," the notorious prison where John McCain endured years of brutal treatment as a prisoner of war, now houses a high-end hotel and office complex where Vietnamese sip cappuccinos and shop for U.S.-branded golf equipment.
McCain, who died on Saturday after battling brain cancer, ended up in Hoa Lo Prison after he was shot down on a bombing run during the Vietnam War 51 years ago. Its transformation over the years is one sign of the late senator's legacy in the Southeast Asian nation.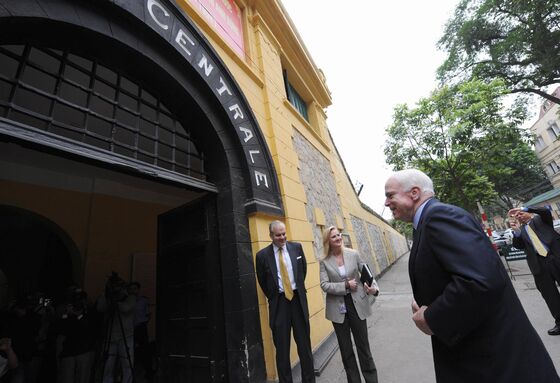 "Because of John McCain, the U.S. and Vietnam were able to reconnect," said Adam Sitkoff, executive director of the American Chamber of Commerce in Hanoi. The investment and trade that followed helped transform the Southeast Asian nation. "In the past two decades, the per-capita income of Vietnamese has more than quadrupled," said Sitkoff. "It's a big part of his legacy."
In the decades following the conflict, McCain was relentless in pushing the U.S. government to normalize diplomatic and economic relations with its former enemy: the embassy said he made 23 trips to Vietnam. Though a critic of the nation's one-party system and human rights record, McCain nonetheless sought closer ties and became a popular figure for many in the country.
"Landed in #Hanoi, where people always greet me in the most incredibly friendly manner," McCain tweeted on Aug. 7, 2014.
After news of his death broke, Vietnamese who once scrambled into air shelters as American bombs rained down on Hanoi mourned the senator's passing.
Hoang Manh Cuong, 60, recalled running to Hanoi's Truc Bach Lake in 1967 when news spread that the American pilot had been captured there. On Monday morning, he bowed and prayed at a concrete monument to the former U.S. senator beside the lake, which residents have turned into a makeshift shrine with flowers and incense.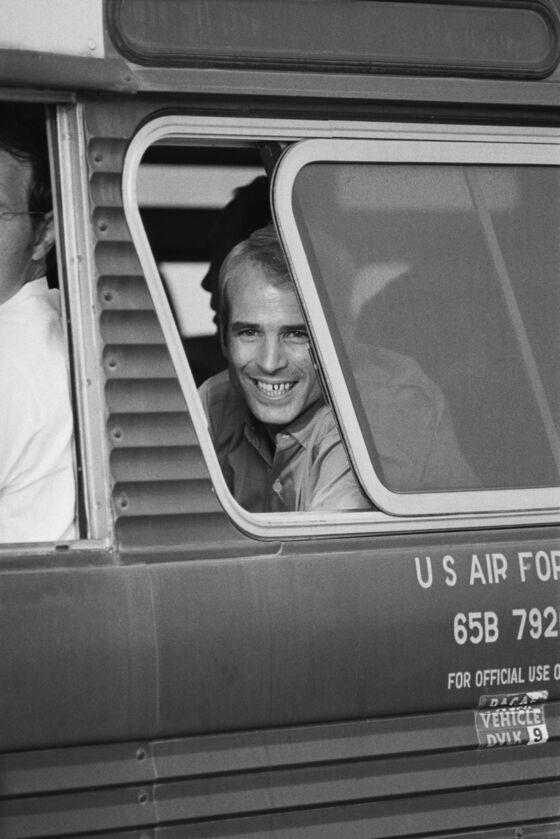 "Although he was once our enemy, he did a lot to help restore relations between the U.S. and Vietnam," Cuong said. "That helped open the economy and improved our lives dramatically. We owe him for that."
The former Navy pilot was North Vietnam's most prominent prisoner of war. After returning from 5 1/2 years of captivity, McCain began a congressional career that made him a force in national and international politics. He ran for president in 2000 and 2008, winning the Republican nomination in his second campaign but losing to Democrat Barack Obama.
In 1988, shortly after he joined the Senate, McCain wrote in a Washington Post opinion column that Vietnam "has an enormous amount to gain by satisfying requirements for a normalization of diplomatic and trade relations. Vietnam is one of the 10 poorest countries on Earth, with an economy kept afloat only by Soviet economic largesse."
After McCain's support helped President Bill Clinton's normalize diplomatic relations with Vietnam in 1995, investment began to flow in and trade with the U.S. and other Western allies began to grow rapidly. Vietnam's communist leaders embraced capitalism and the country now has one of the world's fastest-growing economies, expanding 6.8 percent in the second quarter.
McCain long pushed for the lifting of a ban on the sale of U.S. lethal weapons to Vietnam, which occurred in 2016 under President Ba­rack Obama. The two countries have gradually strengthened military ties, with Vietnam calling for greater U.S. engagement in the region to balance the increasing influence of China, which shares a border with Vietnam and has built facilities on disputed islands in the South China Sea.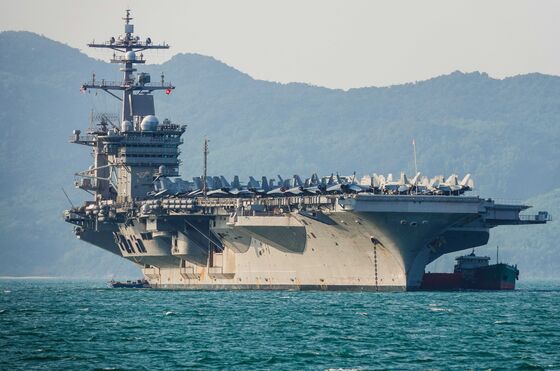 In March, Vietnam welcomed the USS Carl Vinson to the city of Danang, the first visit by a U.S. aircraft carrier since the fall of Saigon in 1975. Vietnam viewed the Trans-Pacific Partnership trade deal, which President Donald Trump withdrew from shortly after taking office, as key to building closer economic ties with the U.S. and reducing its reliance on China, its largest trading partner.
As a prisoner of war, McCain said he was repeatedly beaten and spent more than two years in solitary confinement. In mid-1968, as his father took over as commander of U.S. forces in the Pacific, McCain's captors sought to hurt PoW morale by offering him early release. McCain refused.
The Hoa Lo Prison was demolished in the 1990s and only the gatehouse now remains as a museum.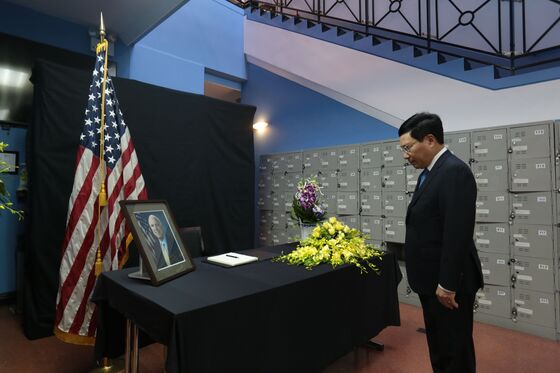 Tran Trong Duyet, the prison's former director, called the American "stubborn" and "very loyal to his country" in a phone interview. He denied that McCain was mistreated, and said the two spoke often. "I thought that if the war ends, he would become a great politician. He has been considered a good friend of Vietnam."
State-controlled media published and broadcast news of McCain's death, favorably recalling the politician's role in improving U.S. and Vietnam diplomatic relations. Vietnam's Deputy Prime Minister Pham Binh Minh signed a book of condolence at the U.S. Embassy, and the foreign ministry said he made "great contributions to healing the wounds of war."
"Two former enemies are now friends, in large part because of John McCain," said Tran Viet Thai, a deputy director general at the Diplomatic Academy of Vietnam in Hanoi, where the country's diplomats are trained. "We are burning incense for him."