Democratic Donors Funnel Cash to Long Shots and Sure Bets
(Bloomberg) -- Democratic donors are often leading with their hearts rather than their heads when it comes to funding this fall's congressional campaigns.
Brimming with enthusiasm and fueled by anger at President Donald Trump, Democrats are funneling cash to long-shot and sure-bet candidates with strong personal appeal sometimes at the expense of lower-profile races that will be more pivotal to party efforts to win the House and Senate.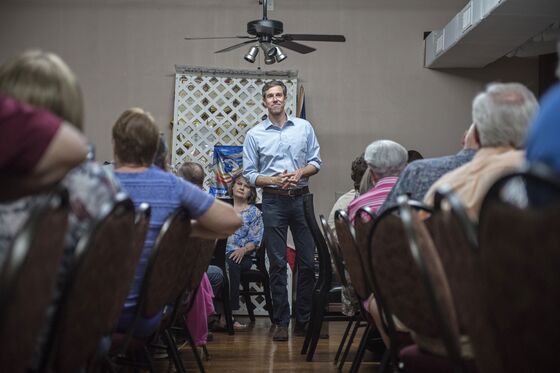 Perhaps the most dramatic illustration is in Texas, where Representative Beto O'Rourke raised $23.6 million through the second quarter for his against-the-odds bid to topple Senator Ted Cruz. His haul put him in the unusual position of having more cash on hand than an incumbent, $14 million versus $9.3 million, heading into the peak campaign season.
That money combined with the candidate's charisma -- the word "Kennedyesque" frequently appears in profiles -- has helped O'Rourke pull within four to six percentage points of Cruz in recent polls. And the enthusiasm he's generating may aid turnout for Democratic candidates in three competitive House races in the state.
But he still faces stiff odds running in Texas: Republicans control all statewide offices, both houses of the Legislature and a Democratic presidential candidate hasn't carried the state since 1976. In the March 6 primary, 1.3 million Republicans turned out to vote for Cruz compared with 641,000 Democrats who cast ballots for O'Rourke.
"I'm trying to do what I can do to make sure Democrats get elected into the House and the Senate," said Betsy Hill, a college medical professor from South Carolina who can't vote in Texas but has made five donations totaling $200 to O'Rourke. "I know it seems like I'm just throwing money at things, but it's a thoughtful donation."
More than 40 percent of the money raised by O'Rourke has come from Democrats like Hill giving $200 or less. That's more than three times the average for Senate campaigns in the last midterm election in 2014.
Some Texas Republicans say they're happier seeing O'Rourke get the money than Democratic candidates in competitive races. "I think the Democrats should send as much money as they can," said Dallas investor Doug Deason, whose family has given millions to Republican candidates.
Democrats are fighting to flip at least 23 Republican-held House seats in November to win a majority. The party will have a tougher time gaining control of the Senate, where they have 26 seats to defend, compared with just nine for Republicans.
Democratic House challengers taking on high-profile Republicans -- even those that face worse odds than O'Rourke -- have also been awash in cash.
In California, Fresno County prosecutor Andrew Janz has collected $2.9 million in his contest against Representative Devin Nunes, chairman of the House Intelligence Committee and an outspoken Trump ally, in a district the incumbent won by 36 percentage points in 2016. In much more competitive districts -- those rated by the independent Cook Political Report as tossups -- only five Democrats have raised more than Janz.
Senator Elizabeth Warren of Massachusetts, a liberal star despised by Wall Street, has raised the third-most money in the current two-year election cycle among Senate candidates: $20.7 million. That fundraising success has happened even though the possible 2020 presidential candidate is virtually assured of re-election.
Campaign aides for Warren and O'Rourke didn't respond to emails seeking comment about their fundraising.
Democratic Senator Heidi Heitkamp of North Dakota, at the same time, is fighting for her political life in a state that Trump won by 36 percentage points in 2016. She had $5.2 million in her campaign account at the start of July, but that was only $2.8 million more than her well-connected Republican challenger, Representative Kevin Cramer.
Senator Bill Nelson of Florida is another Democrat who could use all the money he can get. Although he's among the top Democratic candidates in fundraising, he's facing a strong challenge from Republican Governor Rick Scott, a multimillionaire former health care executive who has shown a willingness to invest tens of millions of his own money into past campaigns, in what's expected to be 2018's expensive campaign.
The impact of Senate fundraising isn't always comparable from state to state because the cost of paying for television ads in a state like North Dakota is dramatically different from Florida or Texas.
Outside groups like super PACs are likely to play an important role in bolstering spending on both sides. But money in the hands of candidates is important because it goes further. Federal law guarantees them the lowest rates for television ads, unlike super PACs that are often forced to pay top dollar.
"The strong grassroots support Democratic Senate campaigns are receiving is more proof that we hold the enthusiasm advantage and that voters are fired up to oppose the GOP agenda," David Bergstein, a Democratic Senatorial Campaign Committee spokesman, said in a statement. "Our candidates across the country -- including in the most competitive races -- are out-raising their opponents, powered by a wave of small dollar, grassroots contributors."
Earlier this month, the DSCC sent out a fundraising solicitation that sought to leverage O'Rourke's popularity among the Democratic base. While the emailed pitch said donations would support "candidates like Beto," Bergstein declined to say how proceeds would actually be distributed.
Campaign finance experts say candidates from bigger states or those with high national profiles -- something that's easier to accomplish now with social media -- tend to have an easier time draw money from small donors.
"Candidates are all prospecting in the same national donor pool," said Robert Boatright, a political science professor at Clark University in Worcester, Massachusetts. "There is a lot of Democratic money out there and internet fundraising is pretty unpredictable."
Top Senate Democratic Fundraisers This Election Cycle
| | | | |
| --- | --- | --- | --- |
| Name | State | Total Raised | Cook Rating |
| Beto O'Rourke | Texas | $23.6 million | Lean Republican |
| Claire McCaskill | Missouri | $20.8 million | Tossup |
| Elizabeth Warren | Massachusetts | $20.7 million | Solid Democratic |
| Tammy Baldwin | Wisconsin | $19.3 million | Likely Democratic |
| Bill Nelson | Florida | $18.2 million | Tossup |
| Sherrod Brown | Ohio | $17.2 million | Lean Democratic |
| Kirsten Gillibrand | New York | $15.7 million | Solid Democratic |
| Dianne Feinstein | California | $15 million | Solid Democratic |
| Robert Casey | Pennsylvania | $14.7 million | Likely Democratic |
| Tim Kaine | Virginia | $13.2 million | Solid Democratic |
Sources: Federal Election Commission, Cook Political Report
To be sure, long-shots sometimes pay off. Democrats elected Doug Jones to the Senate late last year in a special election in deeply Republican Alabama, and in March Democrat Conor Lamb won a special election for a Pennsylvania House seat that had been in Republican control for 15 years.
In this election cycle, Democrats running for the House collectively have raised $170 million more than Republicans, with individual donors pouring $416 million into their coffers. But that advantage evaporates in districts rated by Cook as competitive.
In those districts, Democrats have raised $133 million, compared to $132 million for Republicans. But GOP candidates in those districts, many of whom didn't have to spend much on primaries, had $74.6 million in their campaign accounts, $15 million more than Democrats, according to the latest Federal Election Commission filings.