Australia's Morrison Hit by Damning Poll as New Cabinet Unveiled
(Bloomberg) -- The scale of the challenges ahead for Australia's new Prime Minister Scott Morrison were laid bare in an opinion poll Monday that shows support for the government has crashed after infighting saw Malcolm Turnbull dumped as leader.
The Liberal-National coalition now trails the main opposition Labor party by a 12-point margin, 44 percent to 56 percent, compared with a 2-point gap earlier this month, according to the Newspoll published in the Australian newspaper. Just as worrying for Morrison, Labor leader Bill Shorten, traditionally unpopular with voters, is now seen as the preferred prime minister for the first time since February 2015.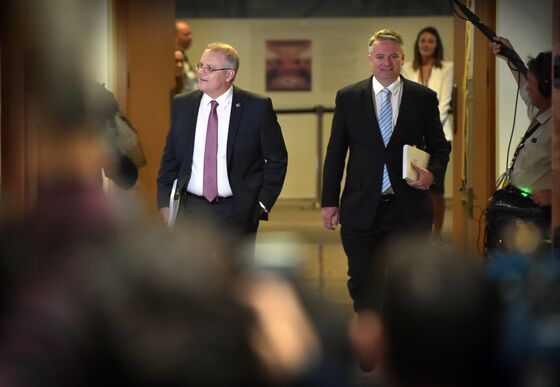 The crushing poll verdict comes after a chaotic week in which Turnbull was ousted by his own party -- the sixth time since 2007 that Australia has changed prime ministers. Morrison, the former treasurer, was the surprise victor in the Liberal Party ballot, beating right-wing populist Peter Dutton, who was the chief agitator for Turnbull's removal.
Morrison, 50, unveiled his new Cabinet on Sunday, seeking to unite the government ahead of elections due by May. He named Marise Payne to replace Julie Bishop as foreign minister and promoted Christopher Pyne to oversee defense. Mathias Cormann will stay in his role as minister for finance and Dutton retained a reduced home affairs portfolio.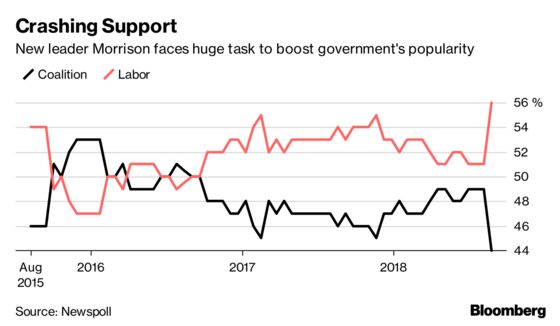 "Voters have delivered their verdict on the chaos within the government and it's damning," said Stewart Jackson, a political analyst at the University of Sydney. "Morrison has a huge task to win back Liberal supporters who have been turned off by the infighting. The government must at the very least now show a united front."
Australia's key new government members:
Prime Minister: Scott Morrison
Treasurer: Josh Frydenberg
Minister for Foreign Affairs: Marise Payne
Minister for Trade: Simon Birmingham
Minister for Finance: Mathias Cormann
Minster for Defense: Christopher Pyne
Minister for Defense Industry: Steven Ciobo
Minister for Home Affairs: Peter Dutton
Minister for Jobs, Industrial Relations: Kelly O'Dwyer
Minister for Education: Dan Tehan
Minister for Energy: Angus Taylor
"Government stability is being restored, we are getting on with the job," Morrison said on Sunday. This cabinet will "tackle the big challenges that are before us with some new ideas and a fresh emphasis while restoring some of the emphasis of the times past."
Bishop, who was Liberal Party deputy leader for the 11 years until Friday's leadership turmoil came to a head, on Sunday resigned as foreign minister and will return to the backbench.
Former prime minister Tony Abbott, who was beaten by Turnbull in a leadership ballot in 2015, did not win a place back in cabinet.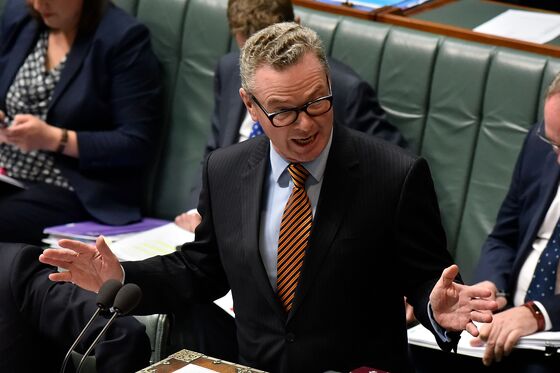 "We saw a handful of individuals who decided to wreak havoc" last week, Simon Birmingham, who takes on the trade and tourism portfolio, told ABC TV earlier on Sunday. "That was very destructive. Every single man and woman in the Liberal Party room needs to put that type of behavior behind us and make sure we do unify for the future. The Australian people expect us to care about them and their interests."