Mnangagwa Sworn In as Zimbabwe President After Court Ruling
(Bloomberg) -- Emmerson Mnangagwa was sworn in as Zimbabwe's president after a failed court bid by the opposition to overturn the results of last month's disputed presidential election.
Mnangagwa, 75, took the oath of office in the capital, Harare, on Sunday, two days after the Constitutional Court ruled that the Movement for Democratic Change failed to prove its allegation that the July 30 vote was rigged.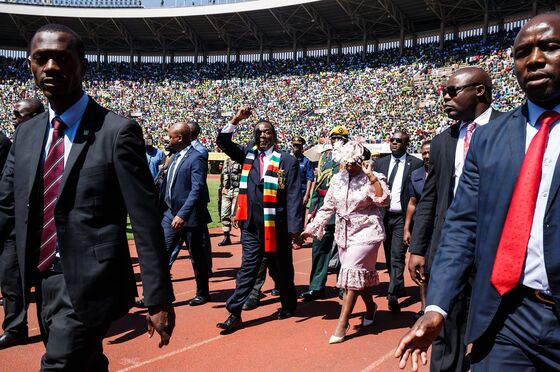 In his inauguration address, Mnangagwa spoke mainly of economic reforms needed to entice western investors back to Zimbabwe, a country ravaged by decades of misrule under his predecessor, Robert Mugabe.
"We'll need radical economic reforms to attract investment," Mnangagwa told tens of thousands of party supporters at the National Sports Stadium in Harare. "We must focus on measures to address economic problems with policies to attract domestic and foreign investment alongside efforts to expedite the resolution of our external debt arrears."
The Treasury can't tap new loans until the country clears $1.8 billion of arrears, leaving little scope to improve government services, rebuild crumbling infrastructure and meet a plethora of other election pledges. Mnangagwa urged his people to take the long view.
"It will not be easy," he said, "but in the path ahead, we can reap a better future. Real change doesn't happen overnight."
The former spy chief will also have to unify a nation that's split down the middle between supporters of the ruling Zimbabwe African National Union-Patriotic Front, and the opposition. Mnangagwa won the presidential vote with 50.7 percent of the ballots, a shade more than the majority needed to avoid a run-off.
MDC leader Nelson Chamisa said Saturday he accepted the Constitutional Court's ruling, but did not agree with it. The party will organize protests and lobby international bodies in an effort to force new elections, he said.