Japan's Abe Seeks Third Term After Fighting Back From Scandal
(Bloomberg) -- Prime Minister Shinzo Abe launched his bid for a historic third-straight term as ruling party president, attempting to put months of scandal behind him and become Japan's longest-serving premier.
The widely anticipated announcement kicked off what was expected to be an easy campaign for leadership of the Liberal Democratic Party. Media surveys of lawmakers and party members who will vote Sept. 20 show Abe will probably fend off a challenge from former defense chief Shigeru Ishiba, with one Kyodo News poll last month showing the prime minister had the backing of 77 percent of LDP lawmakers.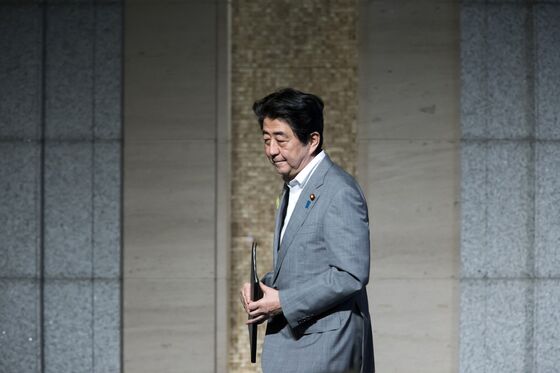 "I'm determined to guide Japan as the president of the Liberal Democratic Party, and as the prime minister, for another three years," Abe said during a visit to the southern island of Kyushu on Sunday, in remarks that were televised by public broadcaster NHK. "I'll take the lead in moving this country forward to the next era."
With Japan's opposition in disarray, winning another three-year term in the party leadership ballot would mean Abe could serve as prime minister until late 2021. That would give the 63-year-old more time to push forward his agenda of defeating deflation and amending the country's pacifist constitution -- while wrestling over trade with the U.S., a key ally with which it has sought to avoid a confrontation.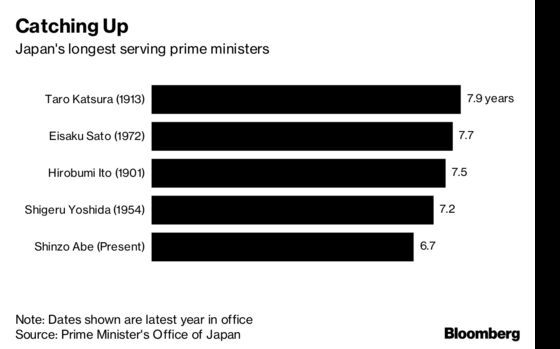 Abe's support has recovered from a pair of cronyism scandals that dogged him during the first half of the year, fueling predictions that he might step down. The approval rating for Abe's cabinet rose to 44.2 percent, Kyodo News reported on Sunday, slightly higher than the 42.4 percent who disapproved.
Still, Ishiba, who has outperformed Abe among the general public, launched a long-shot bid to replace him. Although Ishiba has praised Abe's success in improving employment and corporate profits, he has lamented a lack of policy debate within the party -- and criticized Abe's plan to change the constitution as too hasty.
Ishiba, who has given few details of his policy platform, was due to speak to reporters again on Monday.
Internal Affairs Minister Seiko Noda -- one of only two women in the cabinet -- has also expressed interest in running for the party leadership. But her attempt would likely face difficulty gaining the necessary backing from 20 lawmakers.