Italy Vows to Veto EU Budget After Feeling Shunned by EU
(Bloomberg) -- Italy will start the process of opposing the European Union's next budget after the bloc's member states failed to follow through on a deal reached in June for handling the flood of migrants, Deputy Prime Minister Luigi Di Maio said.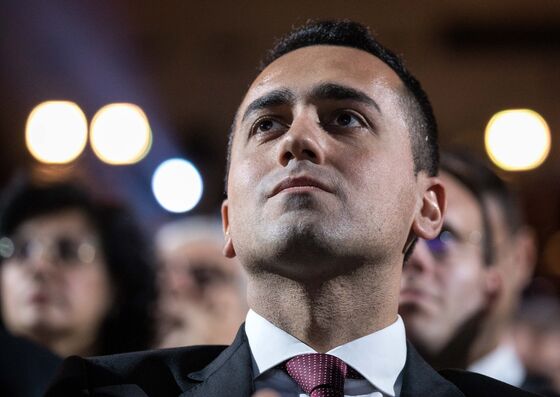 "We will look at all measures in discussions regarding the European budget and will block what doesn't work for us," Di Maio said Sunday in a video message on his Facebook page. "The other states are not doing what's not convenient for them," he added, referring to the refusal of other countries to accept migrants who arrive in Italy by sea.
Italian government officials have clashed with the EU over migration, with the issue brought to a head over the future of 177 migrants on a coast guard vessel, the Diciotti, which docked in Sicily's Catania port a week ago. Representatives from EU member states failed to reach a deal at a meeting Aug. 24 in Brussels called to discuss a common approach on migration.
Italian Premier Giuseppe Conte "did well" to say on Saturday that the nation can't follow EU budget rules as long as the issue remains unresolved, Di Maio said. Migration is "just one of the battles" the government in Rome is ready to wage with the EU, he said in the video.
Italy is ready to "veto the budget and any dossiers where it's possible," Di Maio said Monday in an interview with La Stampa. "Between 2020 and 2027 there is 1.14 trillion in the balance."
There is no intention of leaving the EU, Deputy Premier and Interior Minister Matteo Salvini, who was the first to attack the EU back in June during another standoff with a migrant ship, said in an interview with Il Messaggero."We're there, but we want to re-discuss the costs of being there, given that services are ever more limited."
Discussions about the bloc's next long term budget running from 2021 through 2027 are still at an early stage and Italy wouldn't be the only country objecting to the proposals of the European Commission. Disagreements on the so-called multiannual financial framework wouldn't have any implications at this stage.
As for next year's budget, Italy alone can't block it, as decisions are taken by an enhanced majority of the EU's 28 member states. If Italy withholds monthly payments for the execution of this year's budget, that would constitute an infringement of the bloc's laws and result into legal action by the European Commission.
More Stories on the Migrant Ship and Wider Response
Italy Says It Won't Adhere to EU Budget as Migrants Leave Ship
Italy Should Honor Its Payments to European Union, Moavero Says
Italy's Salvini Under Investigation Over Migrants Standoff: Ansa
EU's Oettinger: Italy Refusal to Pay Would Lead to Interest Payments
The Brussels meeting "was only the first step" and representatives discussed a mechanism for migrants disembarking and a fast solution for the Diciotti, EU Commissioner for Migration Dimitris Avramopoulos said in an interview with La Repubblica on Sunday. "Italian politicians must put an end to the game of accusations."
"Attacking the EU means shooting yourself in the foot," Avramopoulos added.
In the case of the Diciotti, migrants were finally allowed to leave the vessel, with Albania and Ireland agreeing to take in 20 people each while the Italian Bishops Conference agreed to take 100.
Austrian Chancellor Sebastian Kurz called for a change to Europe's policy of "unlimited hospitality" that has increased the number of migrants arriving, he said in an interview with Il Messaggero. Europe has a duty to save migrants but those who come illegally should be sent back to their home countries, he said.