ECB Hunt for Europe's New Bank Watchdog Starts With Irish Claim
(Bloomberg) -- The European Central Bank's search for a new watchdog to oversee one of the world's biggest banking systems has its first candidate: the Irish central bank's deputy governor, Sharon Donnery.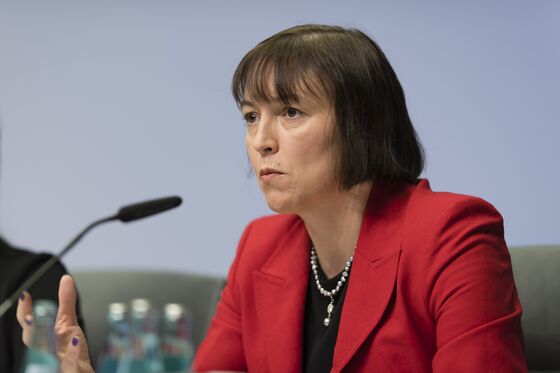 Irish Finance Minister Paschal Donohoe confirmed Donnery's application on Friday, the day submissions to lead the Single Supervisory Mechanism were due to close, saying that she's an "exceptional candidate."
That was the first public declaration of interest by any candidate, and Donnery is likely to be seen as the prime contender. Her in-depth experience is bolstered by an edge that a male competitor can't match -- the ECB would prefer to choose a woman, according to three euro-area officials with knowledge of the matter.
The people asked not to be named because the process is confidential until a shortlist is published. A spokeswoman for the Frankfurt-based central bank declined to comment.
The eventual winner of the job will start on Jan. 1, after the five-year term of France's Daniele Nouy ends. Tasks including pushing European banks to reduce the pile of loans that went bad during an extended economic downturn. The SSM is also preparing to deal with an influx of big investment banks following the U.K.'s decision to leave the European Union.
Donnery is the first female deputy governor at the Irish central bank, leads the ECB's taskforce on non-performing loans, and has been praised by Nouy for her "very strong" supervisory background.
"She's got what it takes," said Jonathan McMahon, a former director at the Irish central bank. "She's resilient, tough and well-prepared."
Her candidacy could have an impact on her boss's ambitions though. Irish Governor Philip Lane is considered a contender to join the ECB's Executive Board when chief economist Peter Praet steps down in May. A small country like Ireland may not be allowed to get two big ECB posts as euro-area nations like to share out the jobs among themselves.
The SSM is rare among European institutions because it's already led by two women. It's also unusual because the ECB's Governing Council nominates the chair whereas most European Union roles are appointed by national governments. That means the ECB, keen to address its gender imbalance, is likely to lean toward female candidates who meet the job's credentials.
Other potential candidates include Elisa Ferreira, who joined the board of Portugal's central bank in 2016 and became vice governor last year.
Italy, the euro area's third-largest economy -- and biggest holder of bad loans -- has at least three men with the credentials to head the SSM. Andrea Enria has led the European Banking Authority, which drafts technical standards for regulating lenders, since 2011. Ignazio Angeloni has been at the ECB since its creation two decades ago. Italy's SSM board member, Fabio Panetta, has been a vocal critic of the ECB's treatment of the country's banks.