White House Signals Firmer Pushback Against China Over Taiwan
(Bloomberg) -- The White House cautioned China against luring away Taiwan's allies, in the latest sign that that trade friction between Washington and Beijing was expanding into a broader struggle for global clout.
In a harshly worded statement issued late Thursday, White House Press Secretary Sarah Huckabee Sanders said the U.S. would rethink relations with the Central American nation of El Salvador after it cut ties with Taipei this week in favor of Beijing. Sanders said the U.S. would seek to deter Chinese efforts to forge new diplomatic bonds in the region.
"The El Salvadoran government's receptiveness to China's apparent interference in the domestic politics of a Western Hemisphere country is of grave concern to the United States, and will result in a reevaluation of our relationship with El Salvador," she said. "The United States will continue to oppose China's destabilization of the cross-strait relationship and political interference in the Western Hemisphere."
While the statement threatened no specific action, it represented a potentially significant shift in the Trump administration's posture toward China. The U.S. has tolerated both China's growing influence in Latin America and its recent efforts to lure allies from the democratically run Taiwan, which Beijing considers part of its territory.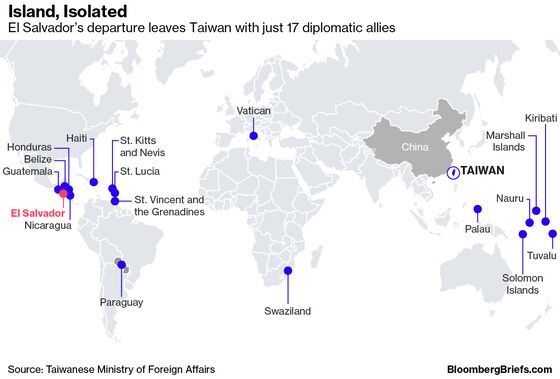 Chinese Foreign Ministry spokesman Lu Kang said Friday that El Salvador's decision "not only corresponds with the trend of the times, but also serves the interests of El Salvador's people." "We hope the relevant countries can respect the rights enjoyed by sovereign states to establish foreign relations instead of interfering in their internal affairs," Lu told a briefing in Beijing.
The U.S. moved its own embassy to Beijing from Taipei almost four decades ago, although it has maintained informal ties with and military support for the island. Since Taiwan elected a China-skeptic president, Tsai Ing-wen, in 2016, Beijing has been wooing the island's diplomatic partners on the condition they recognize both sides as part of "one China."
The White House's reference to the Western Hemisphere recalled the U.S.'s historical claim to a sphere of influence over North and South America under the Monroe Doctrine, which then-U.S. Secretary of State John Kerry declared "over" in 2013. El Salvador was the third Latin American nation to recognize Beijing in two years, leaving Taipei with just 17 formal partners.
The statement would likely fuel concerns in Beijing that President Donald Trump's trade war could spill into a wider struggle geopolitical dominance. The White House in June issued a scathing report accusing China of "economic aggression," following on from the Pentagon's decision earlier this year to brand the country a "strategic competitor."
"This has a flavor of the Cold War," said Wang Dong, an international relations professor at Peking University. "There's a growing view in China that the United States is now determined to balance against if not contain the rise of China. The security dilemma between China and the United States is increasingly deepening."
The statement came as breakthrough eluded U.S. and Chinese officials discussing trade disputes in Washington. The two sides had low expectations and no further talks were scheduled, a person familiar with the discussions said, adding that Chinese officials had raised the prospect of suspending talks until after U.S. congressional elections in November.
Taiwan -- long among the fraught issues between Washington and Beijing -- has reemerged as a key friction point between the two sides. And in recent weeks, U.S. and Taiwanese officials have begun to adopt more confrontational rhetoric, with Tsai on Tuesday denouncing China's "out-of-control behavior."
The Trump administration and Congress this year approved measures to expand ties with Taiwan, including a law that would allow high-level visits by American diplomats. Senator Cory Gardner, a Colorado Republican, said he would introduce a bill to authorize the State Department to downgrade ties with or cut assistance to countries that abandon Taiwan, according to Reuters.
The White House statement came moments after Taiwanese Foreign Minister Joseph Wu told Bloomberg Television that China's influence in Central America would continue to expand "without any force stopping it." Wu said Taiwan's relationship with the U.S. was "stronger than ever" and that the island wasn't concerned about becoming a bargaining chip in the trade war.
"Taiwan is a positive element in the U.S. economy and I just don't worry that Taiwan is going to become a chip to be negotiated with by the U.S.," he said.