Trump Buys Italian Debt? Don't Tell the ECB
(Bloomberg Opinion) -- President Donald Trump to the rescue by buying Italian debt?
So says Corriere della Sera, which reported that Prime Minister Giuseppe Conte received this offer from Trump about three weeks ago. 
That Italian yields rose on Friday reveals the market view on whether this will happen.
But while it is certainly out of left field, it is technically possible. Doing it would be a massive departure from the established world order — but as Trump is the great disruptor, it can't be ruled out.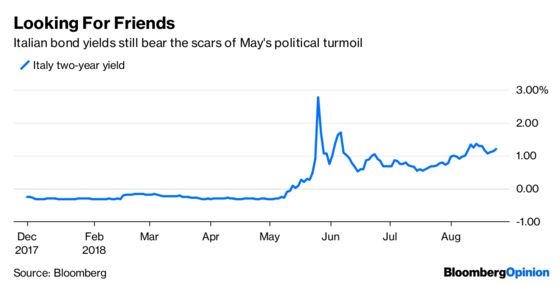 The U.S. Treasury has legal authority to buy appropriate assets for its reserves. On top of this, it can also intervene in foreign exchange markets, something it did as recently as 2011 when it joined a coordinated G-7 effort to stop the appreciation of the yen after the Fukushima earthquake in Japan.
Putting the two together, there's already a mechanism that would in theory allow the Treasury to direct the U.S. Federal Reserve to sell dollars, buy euros and invest the proceeds in Italian securities. 
But buying another G-7 member's currency without its explicit consent would be something of a precedent. These nations have in the past jointly intervened to achieve agreed goals, such as in September 2000 to support the euro. But there's no way there would be agreement now — U.S. purchases of Italian debt would likely boost the value of the euro in the process, something that the European Central Bank has been working for years to avoid. 
Turning around and investing the proceeds in a European Union member whose government securities are already part of the ECB's Asset Purchase Program would compound the insult. This would be a clear case of U.S. officials usurping the authority of the bloc's monetary authority — even if the purchases were made at the invitation of the Italian government. 
Italy's on the ropes. Its high debt and financing needs mean its bond market could certainly use some deep-pocketed patrons, and its insistence on a budget that might break EU rules on deficit limits doesn't make it particularly attractive.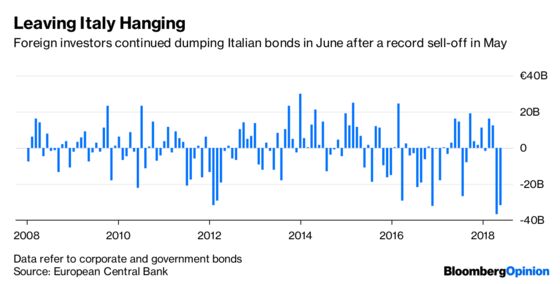 Officials are already clearly on the hunt for alternatives, given that Finance Minister Giovanni Tria is soon to leave for a visit to China to attract investment.
But they should tread carefully. It risks upsetting its most important friend of all — the ECB. President Mario Draghi is still committed to retaining the 356 billion euros of Italian government debt it owns under the Public Sector Purchasing Program and through other legacy programs. But Draghi isn't going to be around forever — his term ends in October 2019. It's in the gift of his replacement to guide central bank sentiment on Italy.
The article will likely rile the central bank, which is already very sensitive to U.S. administration remarks that it's a currency manipulator. And any effort by Trump to follow through would surely encounter a huge amount of resistance in the U.S. There are lots of reasons to think American purchases of Italian debt won't happen.
Still, if Trump really wants to alienate the ECB, buying Italian debt is an excellent place to start. 
This column does not necessarily reflect the opinion of the editorial board or Bloomberg LP and its owners.
Marcus Ashworth is a Bloomberg Opinion columnist covering European markets. He spent three decades in the banking industry, most recently as chief markets strategist at Haitong Securities in London.